"I sing my sorrow and I paint my joy" 
Hello people! 
I have recently experimented with a new live streaming format: The Unplugged Album Show. 
Let me just explain what this show is all about.  
Once a month, I'll pick one of my favorite albums, do some research, do a lot of rehearsals, and then go live.  
For the first episode, I performed Joni Mitchell's Blue, the protagonist of this blog post too.  
So, while during the live streams I focus on the performance of the songs, in this blog post series, I'll tell you something more about the stories behind the album and the context in which it was recorded.  
If you're a fan of Joni Mitchell's, you'll definitely be interested in today's article.  
So, are you ready? Let's do some talking about one of the greatest albums of all time: Blue.  
But first... 
I couldn't have written this piece without a precious resource: Joni Mitchell's official website, a goldmine of information and curiosities about my musical hero. Thanks a lot to all the contributors and to all the musicians who donated their time writing on paper the complicated harmonies in Joni's songs for other performers to enjoy. Thank you, thank you, thank you!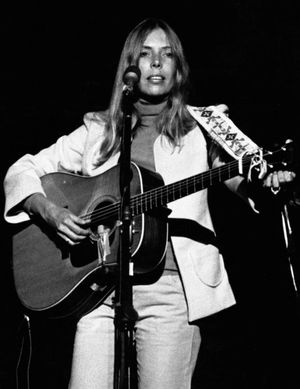 Joni Mitchell in 1974
Bits and pieces from The Unplugged Album Show
---
Introduction 
Joni Mitchell released Blue on June 22nd, 1971, quite a pivotal moment in her life.  
To understand the context behind the album, we have to delve into many different themes.  
Let's start with success. As I'll explain later, Joni's professional life was at a crossroads at that time. That's why we should dig a bit deeper into this matter.  
How does Joni Mitchell see success? How does she deal with fame?  
To find the answer, we can have a look at the pages of one of my favorite books, Malka Marom's Joni Mitchell In Her Own Words.  
In this book, the songwriter explains her vision on this matter, expounding the ambivalent feelings that fame and success raise.  
Being a very independent person, Joni always refused any kind of personality cult. She doesn't like to be worshipped, she doesn't like to be followed. During an interview with Rolling Stone, she claimed that "A certain amount of success cuts you off in a lot of ways. You can't move freely. I like to live, be on the streets, to be in a crowd…"  
Performing to huge crowds, at times adoring, at times tough, was getting too stressful and too out of sync with her personality at that point.  
After a few legendary performances, such as the one at Big Sur in 1969, or the difficult one at the Isle of Wight in 1970, Joni needed a break.  
That's when she decided to take a trip to Europe, influenced by her sentimental troubles too.  
Throughout 1970, she traveled across France, Spain, and mostly Greece, where she spent some time in a hippie community in Matala.  
Joni crafted a lot of the songs included in the album Blue during this time. Some of them are openly inspired by her travel, for example, California or Carey.  
That's how we get to another crucial theme in the album: traveling.  
Without that trip, the sound of Blue would be very different. There wouldn't be a dulcimer, for example (as Joni learned how to play it in Matala). I also believe the arrangements would have been way richer. A solution that would have deprived the album of the beautiful vulnerability we can perceive now.  
But this trip soon caused Joni to feel homesick. She had left home to find herself and now she felt the desperate need to get back.  
This leads us to the essential theme of the album, which is, of course, love. 
As I anticipated in the very first lines of this article, around 1970, Joni was having some sentimental trouble. She was in a relationship with fellow musician Graham Nash, but their romance was starting to collapse.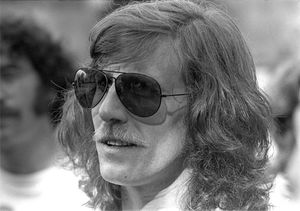 Graham Nash in 1976
During the pre-production stage of Blue, Joni started dating another fellow musician: James Taylor, who played some very cool guitar riffs in a few songs of the album. Yet, their relationship didn't last for long.  
Long story short, all the intense feelings Joni was facing at that time, both in her professional and sentimental life, would set the foundation for this intimate, raw, very personal album.  
Each song on the record spills honesty from every pore. Here's what Joni said about the album: "...there's hardly a dishonest note in the vocals. At that period of my life, I had no personal defenses. I felt like a cellophane wrapper on a pack of cigarettes. I felt like I had absolutely no secrets from the world and I couldn't pretend in my life to be strong. Or to be happy. But the advantage of it in the music was that there were no defenses there either."  
In Malka Marom's book, Joni explains how she felt at the time she conceived Blue with a rather disturbing image, borrowed from a dream she had, in which she was seeing "a fat women's tuba band. Women with big horns and rolled-down nylon in house dresses, playing tuba and bighorn music, and I was a plastic bag with all my organs exposed, sobbing on an auditorium chair at that time. That's how I felt. Like my guts were on the outside. I wrote Blue in that condition."  
Indeed, the album sounded so honest that, after listening to it for the first time, Kris Kristofferson said: "Joni! Keep something to yourself!". 
---
Joni produced the album herself, taking care of the minimalistic arrangements we can hear, song by song.  
You could count the instruments used throughout the album on the fingers of your hand: a guitar, a dulcimer, a piano, another guitar, and some percussions. It was Joni's intent, or rather, need, to deliver the songs as directly as she could.  
With just a few musical elements, we can perceive all the colors Joni put into her lyrics and her singing, giving us an immersive listening experience.  
It's very difficult not to feel a bond with at least some of the songs in the album. As human beings, we all go through moments of doubts, heartbreaks, a quest for a deeper purpose. Probably this is why Blue is still considered a masterpiece.  
Very recently, Rolling Stone placed it at number 3 in its top 500 albums of all time ranking. Many artists were influenced by it, especially among women songwriters, who could see Joni as a mentor, as someone who opened a path towards a more honest and direct way of writing songs.  
Many other established artists of that time took inspiration from this record to write their lyrics. The most well-known example is probably Bob Dylan, who wrote his beat tale in music Tangled Up in Blue right after listening to Blue.
---
All I Want
The opening track of the album is the rather jolly All I Want. A great opening!  
The first sound we hear, when putting the record on, is the mesmerizing harmony created by a dulcimer, soon joined by Joni's clear vocals and some brilliant guitar work by James Taylor.   
From the very first chords in the album, we can perceive how Joni's music sounds different. She doesn't conform to a genre or a style. She doesn't sound like anyone else. The sound we hear is the result of some unique creative work, somewhat instinctive and somewhat extremely well-planned.   
A bittersweet account of her relationship with Taylor, All I Want is the honest statement of a woman who simply wants to find freedom in love, bringing out "the best in me and in you too".   
The song, however, describes a different situation. The songwriter finds herself "on a lonely road", meaning the romance is not going in the direction she'd like it to.   
But in the last verse, we find hope through some direct and evocative everyday images: "I want to knit you a sweater/Want to write you a love letter."  
All I Want sets the tone for the album brilliantly, grabbing the listener and putting them into Joni's shoes straight away. 
---
My Old Man
The second track of the album deals with love once again. It is no longer a mystery that the "singer in the park" Joni is talking about in this song is Graham Nash.  
Far from the cliches and the standards of a pop love song, My Old Man is a masterpiece both lyrically and musically.  
As with her previous and following works, Joni uses words as colors, expressing her feelings in infinite nuances.  
Whenever we approach her songs, we should never forget her painting background. In many points of Malka Marom's book, Joni herself admits that she thinks visually rather than musically. As in a sort of synesthesia, she thinks about notes and chords in terms of colors and nuances.  
My Old Man is a clear example of this thinking pattern.  
The chords Joni plays, this time at the piano, contain interesting variations, that overcome the rules of harmony to paint a whole different sound.  
The best part of the song is probably the passage from section A to section B, where a regular A major chord is followed by a dramatic G#m7. In other words, we get from a peaceful, rather cheerful tone to a sad and somewhat enigmatic atmosphere. 
The genius of it is that this change occurs when Joni switches from the hopeful line "We don't need no piece of paper from the city hall keeping us tied and true," to the sad "But when he's gone, me and them lonesome blues collide."
---
Little Green  
Another very personal track, Little Green deals with a painful part of Joni's life: her decision to give her daughter up for adoption.  
The song wasn't quite understood at the time of publishing, as Joni had decided to keep this fact private. It was only in the early Nineties when the press found out and published the story, that fans from all over the world started connecting the dots and realizing what this beautiful little gem was about.  
The track has an extremely minimalistic arrangement. It is sweet and peaceful. A sort of lullaby.  
The lyrics, however, tell it all, in a very direct way. "He went to California, hearing that everything's warmer there,"..."Weary of lies you are sending home"..."So you sign all the papers in the family name".  
In the chorus, Joni offers a beautiful round-up of images, preparing her daughter for life to come: "There'll be crocuses to bring to school tomorrow," "There'll be icicles and birthday clothes, And sometimes there'll be sorrow."
---
Carey & California  
The fourth track of the album deals with another personal fact in Joni's life: her relationship with Cary Raditz, an American chef she met in Matala, Greece, in 1970.  
As Cary himself confirmed, the song was his birthday present from Joni.  
Strongly connected to the sixth track of the album, California, Carey is a sort of account of Joni's travels across Europe.  
But while in Carey we perceive all the light-heartedness of the hippie Matala moon, California expresses how homesick Joni felt walking on those "streets full of strangers".  
These two songs are almost twins, not only because they deal with the same period in Joni's life, but also for the cheerful arrangements and the hypnotic dulcimer working as the main protagonists.
---
Blue & The Last Time I Saw Richard  
The title track and the closing track of the album are both very enigmatic.  
Recreating the piano atmospheres we found in My Old Man, Joni expresses her feelings and her broken heart using strange voicings, breaking the rules of harmony, and making space for her incredible voice.  
In a recent interview, Joni mildly criticized some of the artists who cover her songs, saying it is not enough to sing "pretty" to obtain a good result with them.  
To record a song she had written months or years before, Joni did a lot of work on herself. How did she recreate the same feelings? How did she express what she meant at the time of writing?  
To do that, Joni employed a sort of method acting technique. She would recall her experiences and immediately connect them to the emotions felt at the time of writing.  
Anyone can perceive this peculiar approach in Blue and The Last Time I Saw Richard. The emotions expressed in these songs are there for anyone to experience. (It is very hard to recreate them in a cover song, too).  
To me, these two tunes sound like two chapters of the same book. 
Blue is the last desperate attempt at saving a relationship ("Crown and anchor me or let me sail away"). But in The Last Time I Saw Richard, the romance is already over. The two ex-lovers meet by chance in a "dark cafè", after they both moved on with their lives.
---
The album features three other songs: This Flight Tonight, which became a heavy metal anthem with the band Nazareth, and the legendary River and A Case of You.  
The three songs sound quite different from each other, but they all deal with the same theme: once again, love at its ending stage.  
The almost ironic portrait in This Flight Tonight leaves all the sorrow and sweetness to the mellow A Case of You, still considered one of Joni's masterpieces. River is yet another Joni's hit, which also became a classic holiday song. 
Blue is an outstanding album. A source of inspiration for many younger songwriters like me, and an endless source of emotions for everyone. 
Thanks, Joni...
---
Thanks for reading! 
Feel free to add your thoughts about Blue in the comments down here. 
You can also get in touch with me by filling up a contact form on this page, or by subscribing to my mailing list. 
Have a great weekend you all!