Music & Stories is officially back! 
This means I'll write some more stories inspired by my favorite songs for my mailing list subscribers. 
Subscribers or not, here's something about the song I chose for you today.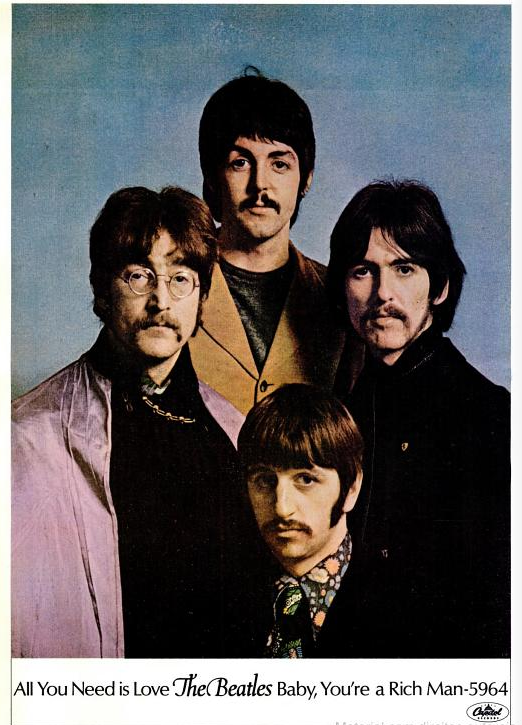 Di Capitol Records - Billboard, July 20 1967, Pubblico dominio, https://commons.wikimedia.org/w/index.php?curid=84685566
In 1967, The Beatles published their legendary album Sgt. Pepper's Lonely Hearts Club Band. 
This record included songs that would later become hits, such as Lucy in the Sky with Diamonds, With a Little Help from My Friends and, obviously, A Day In The Life. 
To give a fresh start to my newsletter Music & Stories, I decided to record a cover of this psychedelic, enigmatic song, enriching it with a video that (for me) is quite experimental. Here it is. For the first time, I used the stop and motion technique to animate the words, creating a sort of vintage lyric video. I hope you'll enjoy it!
As it often happens with post-Rubber Soul Beatles' songs, A Day in the Life is also inspired by many different facts and intuitions. 
The song, presented as a Lennon-McCartney product, was mostly developed by John, with some important touches by Paul, especially in the middle eight ("Woke up, fell out of bed,..."). 
The death of their friend Tara Browne, an heir of the "Guinness family", killed in a car accident at only 21 years of age, was one of the facts that inspired the song. 
Many fans and critics think that Browne is the mysterious character who "blew his mind out in a car", but McCartney clarified that the man in the song is completely fictional. 
The subtle confusion around the facts that inspired the song comes from the technique used to write it: the cut-up method. 
Created by beat writer William Burroughs (but probably dating back to the very dawn of narration), this technique involves the "stealing" of words from another text, re-arranging them, and re-touching them with a personal perspective. 
David Bowie used this method quite often, for example in Moonage Daydream ("I'm an alligator", the apparently non-sense opening verse to the song, probably derives from the cut-up technique). 
Apparently, John Lennon, maybe interested in the news because of the death of Tara, used words and sentences read in a newspaper to craft the verses for A Day in the Life, with Paul filling in for any block or obstacles found. 
That's why the song features another, rather bizarre, fact: Blackburn, a grey industrial city in Lancashire, has more than 4000 holes in its road. So many you can fill the Albert Hall with them. 
Lastly, we cannot forget that the whole record A Day in the Life is taken from was written and produced under the influence of psychedelic drugs. The controversial "I'd love to turn you on" was indeed banned from the BBC because it reminded of a catchphrase by Timothy Leary ("Turn on, tune in, drop out").
Before concluding, I'd like to tell you one last thing about the recording of the song and how The Beatles obtained those crazy orchestral sections. 
It is said that both Lennon and McCartney had some interest in avant-garde music at that time. And that they were left with 24 empty bars after their recording session. 
Lennon got the intuition: they should have hired an orchestra, whose duty was to play the craziest crescendo ever heard in pop music. 
McCartney added that the musicians had to improvise, a request that made the whole orchestra blanch, as used as its members were to precisely execute what was written on a stave. 
The orchestra gave its contribution to the song on February 10th, 1967, in an event in which Mick Jagger, Donovan, and many other artists took part to.
---
What do you think of this song by The Beatles? Let me know! Subscribe to my mailing list to receive my monthly newsletter Music & Stories (and a Secret EP!).