For my monthly cover video, I decided to record another song by The Beatles: We Can Work It Out. 
As usual, mailing list subscribers have also received an exclusive short story inspired by the song. 
In this article, I am going to share some information on how The Beatles wrote and released this great hit. 
Have a listen to my version by checking out the video down here!
We Can Work It Out was originally released as a single, together with Day Tripper, in 1965. 
In the North American market, the song landed as part of the album Yesterday and Today, which included a bunch of songs taken from the records Rubber Soul, Help!, and Revolver (issued a few months later in the U.K.). 
Yesterday and Today is still quite "infamous" for its artwork, known as the "butcher cover". In the photograph, the Fab Four pose with decapitated dolls and pieces of raw meat, dressed up as butchers. 
The picture was interpreted in many ways, but, apparently, the intentions of the band were political: that pose was a sort of protest against the Vietnam War. According to other sources, however, the photo was just an ironic statement against the North American discographers and the way they treated The Beatles' albums overseas. 
Some fans, particularly sensitive to conspiracy theories, even dared to link that creepy picture to the "Paul is dead" rumors (in case you don't know, some people believe that the real McCartney died in 1966, to be later replaced by a look-alike musician). 
In the North American release, We Can Work It Out has to compete with some other great hits, like Yesterday, just to name one. 
However, it stands out as a great rock ballad with an underlying powerful message, summed up in the middle eight: Life is very short and there's no time for fussing and fighting, my friend. 
I chose to cover this song because I simply love these few lines jotted down by John Lennon. I believe there is a lot of truth in this statement, although it is often very hard to live by it. 
But how did The Beatles write this little gem of a song? 
The original idea was developed by Paul McCartney, inspired by personal facts and his relationship with actress Jane Asher. 
John Lennon added the middle eight section, balancing the overall lightness of Paul's lyrics with the darker Life is very short. But who got the idea for that time change? George Harrison, of course! 
We Can Work It Out is one beautiful example of the great songs the band produced working collectively. 
What is your favorite song by The Beatles? What song should I cover next time? Let me know in the comments!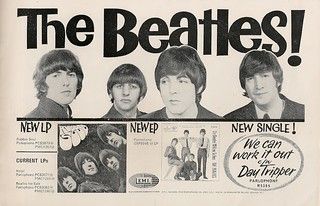 Image downloaded from Flickr under the CC BY-NC 2.0 license: https://www.flickr.com/photos/bradford_timeline/9468935163