For my monthly cover video, I decided to record another song by The Beatles: Yesterday. 
As usual, mailing list subscribers will also receive an exclusive short story inspired by the song. 
In this article, I am going to share some information on how The Beatles wrote and released this huge hit. 
Have a listen to my version by checking out the video down here!
Last month, I shared some facts about Something, the first Beatles' hit written by George Harrison.  
The song I am going to cover today is the result of a solitary effort too. It is also the first Beatles' song recorded entirely by a single member of the band. Let's see how.  
  
Paul McCartney wrote Yesterday between 1964 and 1965, in a long and painful process. 
It all started on a night in '64. Paul was staying with his girlfriend Jane Asher, whom you may remember as the inspiring muse of the song We Can Work It Out. 
That night, Paul dreamed of a melody. Such a beautiful and interesting melody that it seemed already written. 
Worried to have unconsciously committed plagiarism, McCartney spent the following four weeks doing some sort of research into the musical circles he frequented, asking everyone if they had heard that tune somewhere. 
According to the chronicles, that song, temporarily titled Scrambled Eggs, became an obsession for Paul. 
He would play that melody over and over, whenever he had access to a piano. 
Legend has it that while the band was filming Help!, Richard Lester, the movie director, became so sick of it that he threatened to take the piano away. 
At the same time, McCartney couldn't find the right words to go with that melody. This is why he kept playing it, in a constant attempt to finish the piece. 
It took well over a year for Paul to switch from "Scrambled eggs / Oh, my baby, how I love your legs" to "Yesterday / All my troubles seemed so far away". 
He wrote the definitive verses in 1965, while on vacation in Portugal with Jane. According to the official version of the story, Paul wrote the lyrics for Yesterday while in a car, traveling from Lisbon airport to Bruce Welch's villa. 
After the vacation, McCartney performed the finished song to the rest of the band. 
According to some sources, he actually proceeded with the recording without even consulting his companions. The official version, however, states that they all decided the song would work better as an acoustic tune, with only Paul on guitar and vocals. 
George Martin later suggested adding some strings. Worried that this would make the song too mushy, Paul only agreed after some negotiation on the final arrangement. "No vibrato" was the main condition. 
At this point, a problem arose: how to present a song not by the Beatles, but by Paul McCartney alone? It was, in fact, the very first song written and recorded by a single member of the band. 
Brian Epstein decided to publish Yesterday as a Beatles' song. That's why the composition was also attributed, as usual, to the Lennon-McCartney duo (a circumstance that, many years later, caused quite a few legal disputes with the widow Yoko Ono). 
Apparently, the other Beatles weren't too happy with this idea. John, in particular, found the song a little too vague and tender. 
As it will happen with Something, a few years later, Yesterday was initially given to another artist, Matt Monro. The London pop singer placed the song on the top of the charts, confirming its artistic and commercial potential. 
Yesterday is undoubtedly one of the most iconic songs in the history of music. It boasts more than 3000 covers and millions and millions of radio and television passages around the world. 
While not my favorite Beatles song, I love to perform it live. 
What do you think of Yesterday? Did you know the history of his composition and recording?
---
I hope you enjoy my version of this great song! 
I'll be back with a new Beatles' cover next month. 
Meanwhile, don't forget you can catch my live performances on Twitch three times a week (Tuesdays, Thursdays, and Saturdays). 
For more original exclusive content, like unpublished songs and poems, check out my Listeners' Club. 
Have a happy day and...rock on!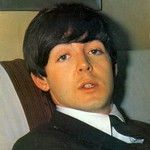 Photo credits: https://www.flickr.com/photos/96327879@N04/9193987765