For the third episode of The Songwriting Cafè, I invited fellow Twitch streamer Amelia Ray to discuss her approach to songwriting. We did some serious talking, but had also a lot of fun! 
Here's a video taken from the live interview:
During our live stream, Amelia and I covered quite a lot of interesting topics. 
Originally from San Fransisco, Amelia is now based in Helsinki (Finland). 
I was very curious to know how life is up there, so Amelia talked a bit about the Finnish music scene, pointing out it is very diverse and generally high-quality. 
An interesting fact about Amelia is that she worked as a cruise ship performer, which made me wonder: how do travels influence the songwriting process? 
Stories from the road are obviously a great inspiration, but we both agreed that ideas can come from all sorts of simple things in life, even during lockdown! 
Travels, however, inspired the first live song Amelia played on stream: Ana No Potable. 
She wrote it while teaching English in Madrid, taking inspiration from a rather funny story about the major of the city, as well as Spanish idioms she was learning from her students. 
We also discussed songwriter's block and how to overcome it. Usually, it is enough to let the song rest for a bit and get back to it with a fresh approach. That's why songwriting can often be a very slow process. Amelia, for example, told us about a song she's been working on for about 8 years! 
It was also very interesting to hear about one of her album projects, Scenes from an Iceland Novel​. Inspired by Gunnar Gunnarsson's The Black Cliffs, the record was supposed to come out in 2008, but a little accident with the song files delayed its publishing. Nevertheless, Amelia played one of the tracks in the album live: Jon Evens The Score (one of my favorites by her). 
Right before that, we discussed Amelia's songwriting process. We found out Amelia usually prefers to start with a melody or guitar riff. She then adds up all the other layers and thinks about the right words for her verses. 
Before the end of the stream, we also talked about her latest songs Hambone Says and Marooned. 
Using contemporary past aesthetics to explore racism, rage, and role reversal, Hambone Says a little gem. With just Amelia's voice and Jake Wood's pandeiro, the song narrates some of the most vicious racial crimes in the history of the U.S. through the lens of a complicit white man (and the music genres popular when the massacres happened). 
Marooned, instead, deals with the end of 2020 and the (sometimes irrealistic) expectations we set at the beginning of every New Year. 
I was very happy to host Amelia during The Live Streaming Cafè! I think we raised some food for thought while having a lot of fun with our viewers. 
I can't wait to have Amelia again on the podcast!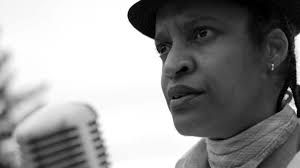 ---
The Songwriting Cafè will open again next month! 
Make sure to follow my Twitch channel and join my mailing list to keep updated on my live streaming schedule and the next episodes of this format. 
Don't forget to visit Amelia's website to find out more about her music! 
Thanks for reading and...rock on!