You are ready to dive into the world of live streaming. You put your setup together, you know all the technical details, and you feel you can confidently face this new experience. There is just one last question hanging out there, in the corners of your mind: how will I make some money?
I feel you. Full-time musicians need to make a profit to pay their bills and make ends meet. 
Luckily, we have more tools than ever to make our music business grow on our own terms. Live streaming is just one of them. A great one, too! 
I found live streaming to be a rewarding activity and an excellent way to build a community online. Believe it or not, it also helped me get out of my shell and become a better performer.
Live streaming can serve many goals. It could be a marketing tool or a product in itself. It can be a way to practice your craft and your stage presence from the comfort of your home. It could be a virtual busking activity or a creative, multi-disciplinary approach to present your show. 
There are so many platforms, methods, and techniques you could use. The sky is the limit!
I will surely cover some of these aspects in some other articles and videos. For now, let's get back to our central question: how can we make money from live streaming?
A lot of fellow musicians out there seem to be quite skeptical about the possibility of succeeding in that. Well, my friends, in this little guide I am going to show you five methods you could employ to monetize your live streaming shows. Obviously, as with everything else in life and business, it takes time and effort to build something out of nothing.
No, you probably won't be an overnight success on Twitch (although it could totally happen!). No, you probably won't get rich (although, by building a profitable business that also involves live streaming, you might one day!). It takes time, a lot of trial and error, some self-doubt, and a lot of self-awareness to start seeing some degrees of success. But, hey, in case you didn't notice, this is true for ANY aspect of the music industry (and life itself, really...)
Also, there is no one-size-fits-all solution, as every streamer and every community are unique. With that said, these five methods are used by a wide range of artists who successfully monetize their live streaming shows, including myself. Are you ready to dive in?
Method #1: Pay-What-You-Want
We call them tips or donations. Business-inclined people call it a pay-what-you-want pricing strategy.
In a nutshell, we have this pricing method whenever the client gets to choose how much to pay for a certain product or service. Every time we play for tips or we busk in the streets we are actually offering a service on a pay-what-you-want basis.
This is the monetization method most used by musicians and other kinds of streamers. 
It involves what we call a virtual tip jar and an audience willing to contribute.
Before I explain what a virtual tip jar is, and how to set one up, let me highlight an important aspect: zero is also part of the paradigm here. The pay-what-you-want pricing strategy involves a certain number of users who will pay zero to have access to your product or service (in our case, our live streaming performance). Some other users, however, will pay more, according to the value they feel you have delivered.
Obviously, the more value, the more money those users will spend on your show. What do I mean by value? In this case, at least in my experience, the value is not only linked to the quality of the stream itself. It is linked to the sense of community you can build and on how entertaining, inspiring, or informative you can be. Refining your stream to offer more and more value to your community requires a lot of experience and trial and error. Just experiment!
In my experience, setting daily donation goals has helped a lot to raise my income. I also explained to the viewers that this is my business and that music is my full-time activity, making it clear that my daily tip goals are there not because I'm greedy or shady, but because this is how I make a living. Most of all, my income started growing as I learned how to be more relaxed and more entertaining while I was broadcasting. I started having fun, instead of keep thinking: "I need to make this work or I'll be screwed!". This is Performance 101, but it is so true: if you have fun, the audience will have fun; if you panic, the audience will either get bored or will find you obnoxious (I'm sure I have lost so many viewers by being the scared, insecure little thing I can be sometimes!). 
Now that we've covered value or at least one tiny aspect of it, let's see what a virtual tip jar is and how we can create one.
The name is quite self-explanatory: we are talking about a tip jar, but instead of a physical container where viewers can throw in coins, we are describing a webpage linked to an online payment processor, like PayPal, Stripe, or Venmo. 
There are two main ways to build a virtual tip jar. The first one is by using your own website, as I did.
Bandzoogle, the platform I used to create my website, has a built-in feature to do that. However, even if you have your website on another platform that does not offer this feature, you could still build a page that has a link to your PayPal or Venmo. Why bother with a page on your site instead of a PayPal link? Because you want to bring people to your home, show them what your music is all about, and maybe even have them subscribe to your mailing list or buy your music.
The second way is indeed to use PayPal or Venmo directly. I am not very familiar with Venmo, so I won't get into details. I have some experience with PayPal, instead, as my very first virtual tip jar was simply a paypal.me link. To create one, you'll need a PayPal account and follow the instructions you can find here. 
Another solution is to use platforms like BuyMeACoffee or Ko-Fi. These usually rely on PayPal or Stripe for the payment in itself, but they allow you to customize your page and even set up subscriptions for your biggest fans.
To have cool alerts on-screen each time someone donates, try out services like StreamElements.
During your live stream, whether it happens on Facebook, YouTube, Twitch, or any other platform of your choice, you can share the link to your virtual tip jar and ask your viewers to contribute, if they want to.
A successful outcome will depend on many factors: the value of your stream (as I explained above), the number of concurrent and average viewers you have, the environment you stream from, and the community around you.
Obviously, the more viewers you have the more chances you get to fill in your virtual tip jar.
However, you don't need thousands of viewers to make money with live streaming. Quite the opposite, actually.
Nobody can answer the question How many viewers do I need to make a living? as it all depends on your community. Some people prefer to hang out in smaller communities, as they want to be active members of them, so they may be more likely to back up smaller streamers rather than bigger ones. Some other people prefer bigger communities, instead. They want to see the social proof that your music is good and your stream is awesome and fun.
All you can do, in the beginning, is to build a community you feel comfortable with and deliver your best at every show (as much as possible).
Lastly, the platform you stream from can surely impact your results. In my experience, Twitch is the best platform for monetization and I'll explain why in the next paragraph.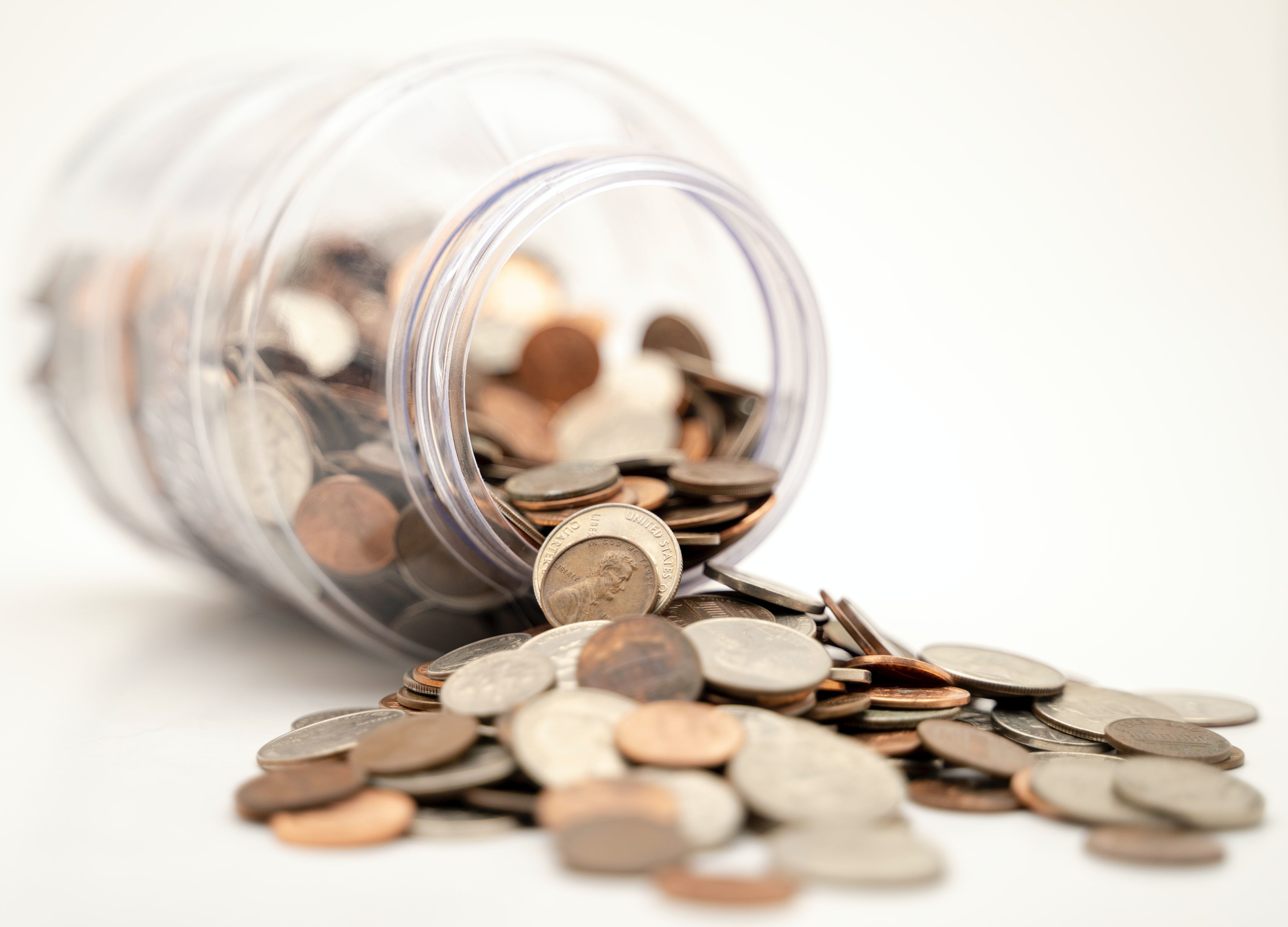 Photo by Michael Longmire on Unsplash
Method #2: Built-in monetization tools
Some streaming platforms present a number of built-in tools to monetize your stream.
Twitch is the most well-known one in this regard. On top of presenting different monetization methods, Twitch also has a great and supportive community.
Another platform that features built-in monetization tools is Sessions. Although I have streamed there for a while, I am not up to date with their latest developments, so I won't be discussing how this platform works in this article.
Using Twitch as an example, let's see what I mean by built-in monetization tools.
Some of the platforms you can stream from offer you ways to monetize your live streaming directly, without having to set up a tip jar. Twitch, for example, has its own currency called bit. A viewer can purchase as many bits as they want and donate them to their favorite streamers through cheering. Streamers usually have an alert set up for when this event happens and a fun animation shows on-screen, making the process of donating fun and interacting.
Twitch offers another way to monetize your live streams: subscriptions. A viewer can subscribe to your channel and get some rewards, such as a bunch of exclusive emojis (designed by you). A supportive viewer can also gift a subscription to another member of the community, usually as a welcome when someone new follows and interacts in the chat.
Subscribers can access your live streaming without seeing any ads, which, by the way, is another way you can earn (a little) money through Twitch. On top of that, you can come up with other benefits and rewards for your subscribers, as you wish.
Twitch has some other built-in tools for the monetization of your live stream: extensions. To be precise, extensions are usually not developed by Twitch itself. They are the product of other companies or communities that offer these widgets and plugins you can add to your stream for free.
Some of these extensions are eligible to work with bits. Every time a viewer interacts with this kind of extension, they spend some bits that are split between you and Twitch or you and the developer. What do these extensions do? It depends on the one(s) you pick! For example, the one I use allows viewers to turn themselves into some cute cartoon characters shown on screen.
A fun and effective tool Twitch has created to encourage viewers to support their favorite streamers is what we call a Hype Train. Basically, it is a mini-game that automatically activates when a certain amount of people cheer or subscribe. Viewers have to keep donating or subscribing to get through the five levels. If the five levels are completed within a certain amount of time, the contributors will receive some new and fun emojis (which are called emotes on Twitch, by the way). This is a great example of how this platform managed to gamify the pay-what-you-want pricing model.
Click here to see what a Hype Train is!
YouTube also presents some built-in monetization tools that are not always specifically linked to the live streaming experience. Super Chat and Super Stickers, for example, can only be activated during live videos, but the other monetization options, such as memberships, the ability to sell merchandise through the channel, and more, apply to regular videos too.
Facebook has recently implemented ways to support streamers directly too, through their Stars. 
Now, where's the caveat?                                                                                                   
To activate these built-in tools, on any platform that presents them, you have to meet certain requirements. 
We all know what we need to start monetizing on YouTube, right? At least 1000 subscribers and 4000 hours watched within a certain time. If you are a small creator or a musician who is not very active on YouTube, you will know how tough it is to reach those requirements!
Twitch makes it a bit easier. You only need 50 followers on your channel, an average of 3 concurrent viewers over the last 30 days, 7 different broadcasts, and 500 minutes streamed over the last 30 days to become an affiliate and start monetizing on Twitch. Many music streamers manage to reach this goal within the first or second month of streaming.
Obviously, becoming a Twitch affiliate or a YouTube partner involves some legal terms and conditions you need to sign up for. For example, Twitch affiliates cannot multi-stream nor upload on other platforms any of the content they broadcasted on Twitch for the following 24 hours. Make sure to agree to these rules before signing up (and do your best to respect them).
Method #3: Live streaming as a service
If you are an established musician or if you can count on an audience willing to pay for your concerts, you could offer live streaming as a service.
This happened a lot during lockdowns and other nightmare moments throughout 2020, but I am sure the trend will keep being there as more and more people realized the power of online concerts.
Think about in-person house concerts. Now turn them into online virtual concerts, et voilà! 
All you need, in this case, is all the tech set up (including a great internet connection), a website and some social media to advertise this service, some fans who will buy it, and the time to actually perform. You will also need to choose the platform you will broadcast from and a link to the private live video or call to send to the buyers for access.
This solution is great for anyone who feels more comfortable with the traditional idea of a concert, with a structured setlist and a paying audience on the other side. With tools like Zoom, it is even possible to see and hear the crowd.
You can also offer this service on a pay-what-you-want basis, merging two methods into one.
Method #4: Sell merch and digital products
From day one, you could start monetizing your live streaming even further with sales. 
Merchandising and digital products are both great solutions. 
You surely know what merchandising is, but do you know you can use services like StreamElements to create your items on demand and without any additional fee? 
You can connect StreamElements to your Twitch or YouTube channel, or even Facebook page, and start selling your merch while you live stream. This platform even offers cool integrations, like animated on-screen alerts for when a viewer buys something from you.
Another option is to sell some digital products through your website. Of course, you could also promote your Spotify, Apple Music, and all that jazz. Selling tracks, e-books, courses (or whatever else you feel like) from your website, however, is way more profitable.
You can promote these products while you stream to maximize your earnings and widen your impact as an artist and a content creator.
Truth to be told, I haven't implemented these two solutions yet, mostly because I am in the process of creating some digital products to sell. I am also trying to understand whether Italian laws allow me to use tools like StreamElements merch. The plan, however, is to get started with these two monetizing methods as soon as possible! I will surely update you on the results, whenever I take this step.
Method #5: Memberships
Both Twitch and YouTube allow you to sell memberships to your audience. However, they have control over the prices, the content you can deliver to the members, and all the other aspects of the transaction.
To offer a better experience to your superfans and earn some more money, you could set up your own membership service.
A lot of streamers, for example, promote their Patreon page while streaming. I bet a lot of the traffic to their Patreon page actually comes from those live chats. After all, live streaming is all about real-time interactions with your audience. Your viewers get to know you on a personal level, so many of them will be interested in the exclusive content reserved for your Patreon community.
However, there is another solution. If you don't feel Patreon will be a good match for you, you could build your own membership site, as I did.
Once again, Bandzoogle has a built-in feature for that. WordPress also presents some plugins to build your own little membership space.
Let me warn you, though: this solution requires a lot of work and it requires a lot of time to take off. But this is material for another article...
---
Well, I hope you got quite a lot of ideas on how to monetize your live stream!
I think the best solution is to try and implement all of these methods, in order to differentiate your sources of income and offer a great experience to your viewers. Of course, this requires a lot of effort, so don't expect to have everything set up overnight!
As I mentioned above, even I am taking my time. Right now, I am creating products and educating myself over method #4. I am already using methods #1, #2, and #5, and thinking about having a go at method #3 from next year.
What are you waiting for? Hit that "Go Live" button already!
If you have any questions, don't forget to get in touch and comment down here!
If you'd like to come and say hello, meet me on Twitch!
Happy streaming!