The most difficult part of streaming your live performances is taking the first step.
Any successful streamer out there will confirm how difficult it is to learn how to technically put your stream together.
What gear do I need? Can I use my wi-fi connection? Do I need additional pieces of software?
These are only some of the many questions you might have in your head right now!
Understanding the technology behind live streaming can be challenging and frustrating, especially when all you'd like to focus on is your music.
Some musicians also worry about spending a lot of money on streaming gear before knowing whether this is the right path for them.
Well, here's some good news for you: you don't need to be a tech expert to start broadcasting your performances. You don't need an astronomical budget either.
In this article, I will help you overcome these doubts, showing you the basics of an effective live streaming setup and giving you also some advice on how to find the right equipment on a budget. 
I'd like to start with one thought: investing in some live streaming gear for your music performances can make a lot of sense. Most of the gear I will present in this article, in fact, is also the foundation of any home recording studio. In other words, you can start two different activities that will most likely enhance your career with just one investment. Keeping this in mind, we can now dive a bit deeper and explore some different gear ideas to get started with your online shows. 
Streaming from your phone
When it comes to setups, there is no "one-size-fits-all" solution. Depending on your skills and budget, there are several options you can choose from. 
Have you realized you hold a ready-made go-live kit in your pocket? Yes, I am talking about your smartphone, obviously.
If you don't have any budget and if you don't feel ready to educate yourself on the technology needed to start streaming, you can simply rely on your phone.

As a matter of fact, that's how I got started too, going live on Facebook with just my smartphone. To be honest, I didn't even have a tripod. I used some books and my laptop to keep the phone upright (terrible, I know...).

This solution, however, is obviously the less effective one in terms of quality.
As musicians, we will have to pay particular attention to the sound. Unfortunately, many smartphones don't have a great in-built mic. To overcome this, you could invest in an external microphone to plug into your phone, but there are better ways.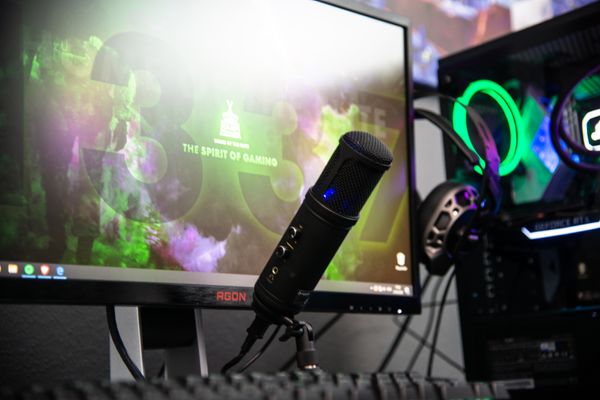 Photo by ELLA DON on Unsplash
Streaming from your computer
The second go-live tool you have already available is your computer.
Now, live streaming can get a bit tough on your laptop or PC.
You will need a decent machine to have good results, but let me be honest again: I started streaming on Twitch with a lousy netbook. If I made it, you can too. A word of advice: if that's your case and you have taken live streaming seriously, just make sure you are saving enough money to buy a dedicated computer later on.
At this point, you might wonder: what sort of computer do I need to stream? 

There are two main components you have to look at: the processor and the RAM (Random Access Memory). Gamers and other kinds of streamers will also need some very good quality graphics, but, luckily, this is not our main concern.
For a good streaming computer, I would recommend the following specifics: a newish and fast processor, between 8 and 16 GB RAM, and quite a lot of storage for some pieces of software you will need.
OBS: your new best friend
Now, before getting to bits and pieces you'll need to add to your setup, let's discuss an element you will definitely need: some piece of broadcasting software.

I know, this sounds very scary, but actually, there is an amazing (and FREE!) solution available to everyone: OBS, Open Broadcaster Software.
This amazing piece of software is open-source, yet it has some incredible features that can make your live stream look very professional.
The audio setup
Now that we have discussed what kind of computer and software you'll need, let's get to a musician's favorite part: what about microphones, mixers, and audio interfaces?

Whether you're a singer or not, you will definitely need a mic. Why? Well, because live streaming is all about interacting with your viewers. You won't be able to do that if you don't talk to them.

If you're a singer, you'll need a good-quality microphone that will deliver the amazing sound of your voice with enough precision. My suggestion is to go for a dynamic XLR microphone. You can also opt for a condenser mic, but I found that dynamic microphones are just better at keeping the background noise out of the equation.
I personally use a Shure Beta 57A, which is also great for in-real-life live performances. Truth to be told, the 57A works better with instruments. For vocals, I suggest a 58A.
These high-quality dynamic microphones cost around 150€, so they are quite an investment, but they are also very versatile.
If you have a bigger budget, you can never go wrong with a Shure Sm7b, a microphone used also by professional broadcasters and podcasters.
If you have a low budget and prefer condenser microphones, Behringer might be the right choice for you.
I own a very basic Behringer C-1, which served me well for around three years. I used it both for live streaming and home recording, obtaining good results.
Rode also has an excellent line of condenser microphones you could use both for live streaming and recording purposes. Their price, however, is a bit higher (between 150€ and 200€, or even more).
Now, as I anticipated in the previous paragraph, to plug your XLR mic and your instruments you will need some other pieces of gear. You could opt for an audio interface and/or a mixer.

What's the job of these two components? An audio interface transforms the audio signal from a source, such as the voice coming in through your microphone, into a digital signal. That's how your computer can process the sound, either for recording or live streaming.

If you're a gigging musician, you might be a bit more familiar with a mixer already. You use a mixer to plug in your mics and instruments, adjust the EQ, and transfer the signal to the speakers. In live streaming, it is not that different, but instead of connecting the mixer to your speakers, you'll connect it to your computer.
This is how I handle this connection: I plug my microphone and my instruments into my Behringer Eurorack UB1002 (an old mixer, but still effective), then, using a double jack cable, I connect the mixer to my audio interface (a basic and inexpensive U-Phoria UMC22).
This way, I can control my vocals, my guitar, and my piano without much effort. With the mixer, I can also adjust the EQ.
The video source
Last, but absolutely not least, you will need a video source.

Keep in mind that, to achieve some great results and look decent, you do not need an expensive camera. You need skills, instead.
I've sucked at videos for a lot of time until I've finally decided to study one important topic: lighting.
Before investing in a very expensive camera, try to understand how lighting affects your videos.
Usually, video makers rely on three different light sources. The positions of these sources generate different lighting patterns and effects.
For a live streaming musician, it is important to have a nice key light, usually in front of the subject (which is you, by the way). Many streamers also work with colored fill lights that give a better tone to the whole scene.
Once you have understood how lighting works, you can start playing around with cameras.
I recommend you use some high-quality webcams, such as the Logitech C920.
This piece of gear is not that expensive (it costs around 90€), but it is of good quality. 
Your internet connection
Before closing the article, let me reply to a question I get asked a lot: can I stream using my wi-fi connection? The answer is yes and no.
Technically, yes, you can. Practically, it is way better (and safer) to use an Ethernet connection.
If you have a chance to plug your computer into your router, you will have a more stable and more reliable connection, which will help you avoid freezing, dropping frames, and other issues.
As for how fast your connection should be, obviously the faster the better.
You should look at your upload speed and make sure it is at least 10 Mbps. I personally stream at around 20 Mbps and I have no issues at all.
---
Has this article clarified some of your doubts about live streaming? I hope it did!
Let me know in the comments if you have any other questions or if you think I should focus on some other specific topics in other articles.
Thank you so much for reading and...happy streaming! Rock on!
---
I stream on Twitch on Mondays, Wednesdays, and Fridays from 5 pm (Italian time). Come and say hi!