I'll be honest: I am not a fan of productivity strategies when it comes to songwriting.
I still believe in inspiration, which can suddenly spark at any time and in any place.
However, I learned the hard way that relying on inspiration alone in my music career was not taking me anywhere.
If you are willing to commit to music full-time, you also need some planning and some productivity strategies in place.
I don't personally use productivity strategies for songwriting (yet), but I find that goal-setting, planning, and other hacks are very useful for all the other tasks I carry out on a daily basis.
Whether it comes to content creation, live streaming, the planning of digital products, or basic admin work, time-management and productivity hacks really come in handy to keep me focused and motivated.
In today's article, I'll show you an effective productivity strategy I have been experimenting with in the last month: task batching.
What is task batching?
An independent songwriter and musician has to wear many different hats.
We are not just artists, we are also entrepreneurs, managers, content creators, marketers, bookkeepers, and sometimes we even have a day job to add to our tasks.
For this reason, we must often switch between very different activities. 
Planning a tour is different from making a video. Setting up an ad to promote our latest album is different from keeping our accounts in order. All of this is way different from our favorite task: to sit down and write a song.
When we deal with many different kinds of activities throughout our day, we can end up feeling distracted and burned out. As an effect of this constant switching, we lose time and focus. The amount of work seems huge, but the results are scarce. 
With task batching we can avoid all of this. How? By simply grouping similar activities together, minimizing the time spent switching from one task to the other and improving our focus.
Why does task batching work?
The opposite of task batching is, in a way, multitasking. When we multitask, we keep switching from one idea, process, or structure to a very different one. It's a tiring thing even to think about it!
I'll be honest with you: I've been a fan of multitasking for years. In school, I used to do my homework while watching The Simpson or listening to rock music. 
Things changed at University when I realized that studying very complex topics while my brain was distracted by something else was not a great idea!
With task batching, we group activities that require a similar amount of concentration, a similar process, or a similar idea. This way, we manage to keep focused and achieve more in less time.
Task batching has another great positive effect: it makes your workload looks manageable.
In order to apply task batching to your everyday life, you have to identify the various steps you need to take in order to obtain a certain result. For example: how do you publish a new album? You'll need to write the songs, record them, register them to your PRO, promote them, and so on. There is a list of tasks that you can clearly refer to.
Now, if you look at the goal "to publish a new album" as its whole, you can surely be a bit intimidating. It sounds like a lot of work!
But what if you break that giant step into smaller, more manageable steps? What if you can group the most similar steps, in order to minimize the switch between tasks? 
You will probably agree with me when I say that this step now looks less intimidating.
How to batch
There are several variables you can consider when batching your activities.
I personally try to group tasks that require similar processes. For example, writing this article or writing another article requires the same process and the same level of concentration, so it makes sense to group these tasks together.
Considering the concentration required for a task is often one of the main aspects creators consider when organizing their work. If writing an article and shooting a video requires the same level of concentration and we find that we are more focused in the morning, it makes sense to batch these two activities together and schedule them accordingly.
As musicians often have to travel for their work, batching, in our case, might also involve a consideration of the place where the task has to be carried out.
While we can write songs potentially anywhere, we can only record them in a studio. This mindset is extremely useful when you are planning the production of a new album while working on other projects or touring. I know, rockstars usually don't tour while they record, but, as smaller artists, we know the reality can be quite different for us!
It is very important that, whatever variable you consider, you learn how to prioritize.
Start from your goals and work your way from there. What is the most important task to reach that goal? And what other task you need to carry out can be grouped to that?
Task batching for independent musicians and songwriters: a practical example
Before leaving you to your own planning, let me give you a practical example of how an independent musician and songwriter can batch their tasks (yes, we are talking about me). 
First of all, we have to set our goals. 
I won't get into much detail about goal-setting here, but, in a nutshell, you have to start from the bigger picture. It doesn't matter how big your goals are because during our process we will divide them into realistic micro-goals. That's where our focus will be.
Let's say that my goal is to publish a new album by the end of 2022. What macro-activities are related to this big goal? Here's a list:
songwriting
recording
promotion
Since I make music full-time and I need to earn money throughout the whole year, there will be some other activities I'll carry out in my day-to-day life. For example:
live streaming shows
ongoing promotion
admin work
The next step will be to break these macro-areas into smaller bits. Let's take two macro-areas as an example: admin work and songwriting.
Some tasks related to the admin macro-area are:
bookkeeping
backend management of my website and other platforms used
Obviously, I'll try to avoid working on some new songs when I am dealing with the backend management of my website. I will simply reserve one day for songwriting and another day for admin work.
We could say that any independent musician and songwriter has to deal with six macro-areas:
songwriting
recording
performance
admin work
promotion and marketing
other income-generating activities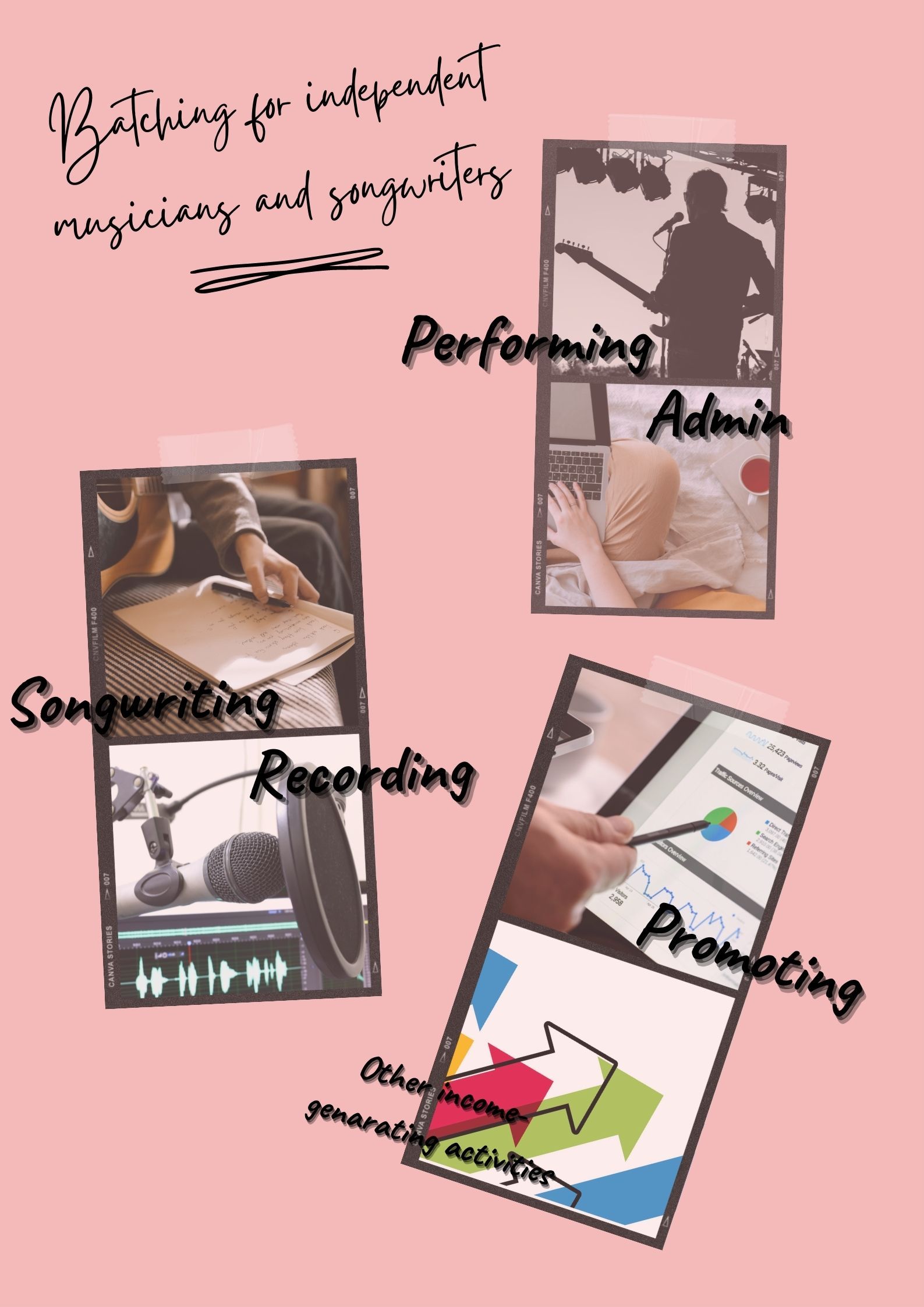 What smaller tasks and micro-goals can you derive from these six big areas? 
Identifying them might be the productivity breakthrough you were hoping for!