Open Broadcaster Software: the one-stop solution for your live streaming shows
A beginner's guide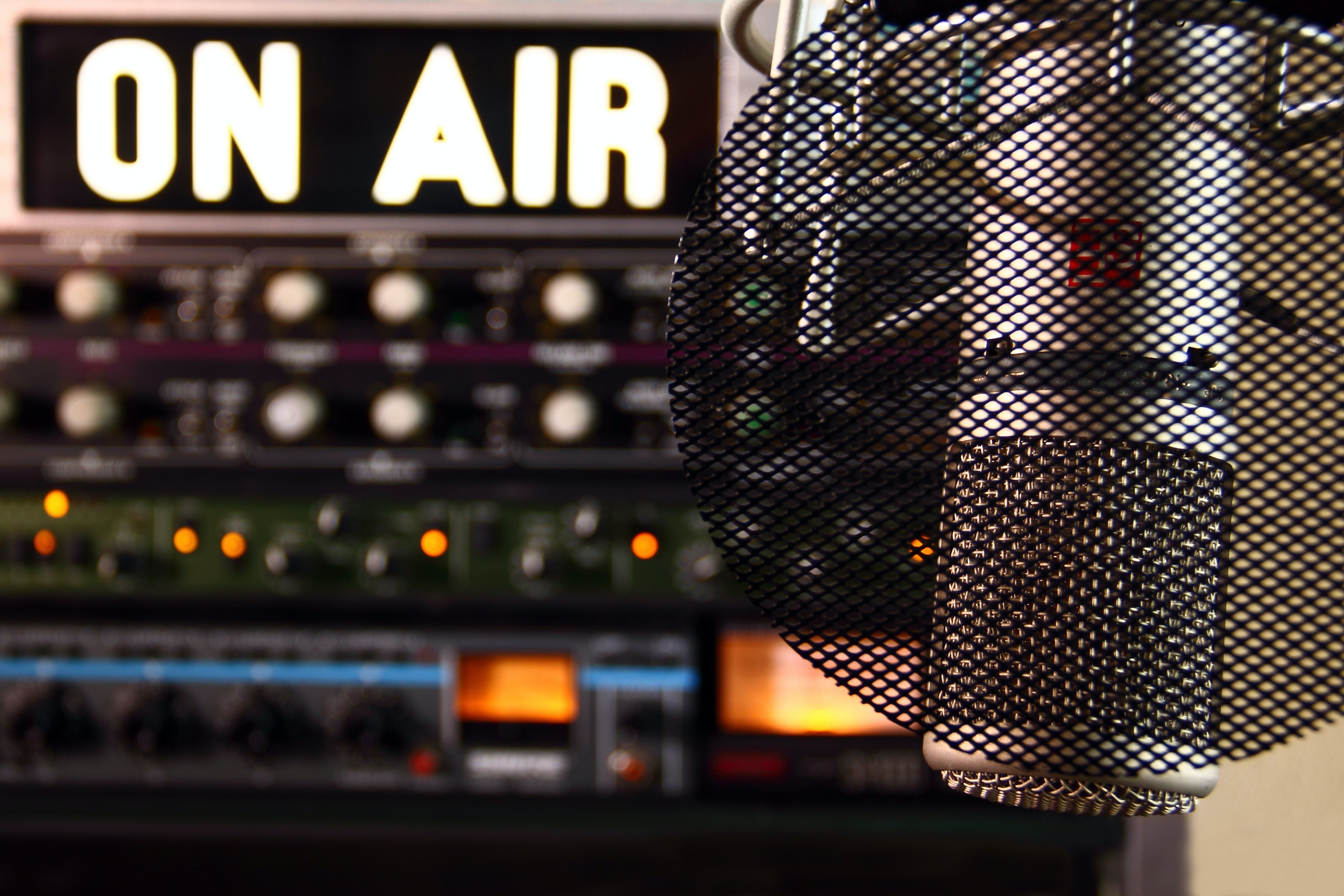 Photo by Fringer Cat on Unsplash
Open Broadcast Software, simply known as OBS or OBS Studio, is the gold standard for live streaming. Rich in features and functionalities, yet totally open-source and accessible to anyone, this piece of software is used by a wide range of professional and non-professional streamers.
I cannot highlight enough how useful and well-built OBS is. However, I can't hide the fact that it can be challenging to grasp its basics, especially in the beginning. But don't worry!
In this article, I will guide you through the most important OBS features and I will show you how to set up your very first live streaming show using this piece of software. Are you read? Let's dive in!
The pieces of the puzzle
Let's start with the basics. 
To get the software, simply head to the OBS homepage, click on the operating system of your choice, and follow the instructions. OBS works with Windows, Mac, and Linux.
When the installation process is complete, you can start using the software straight away but, before doing that, make sure to connect your audio and video source to your computer (such as your webcam and audio interface through their USB cables). 
When you open OBS for the first time, you will see a big black screen at the top and a smaller bar, divided into five different sections, at the bottom.
The five sections you see at the bottom are the most important ones, as they allow you to control your output. A preview of your output will be displayed on the big black screen.
The five sections compose the main "pieces of the puzzle".
We have the scenes, the sources, the audio mixer, the scene transitions, and the controls.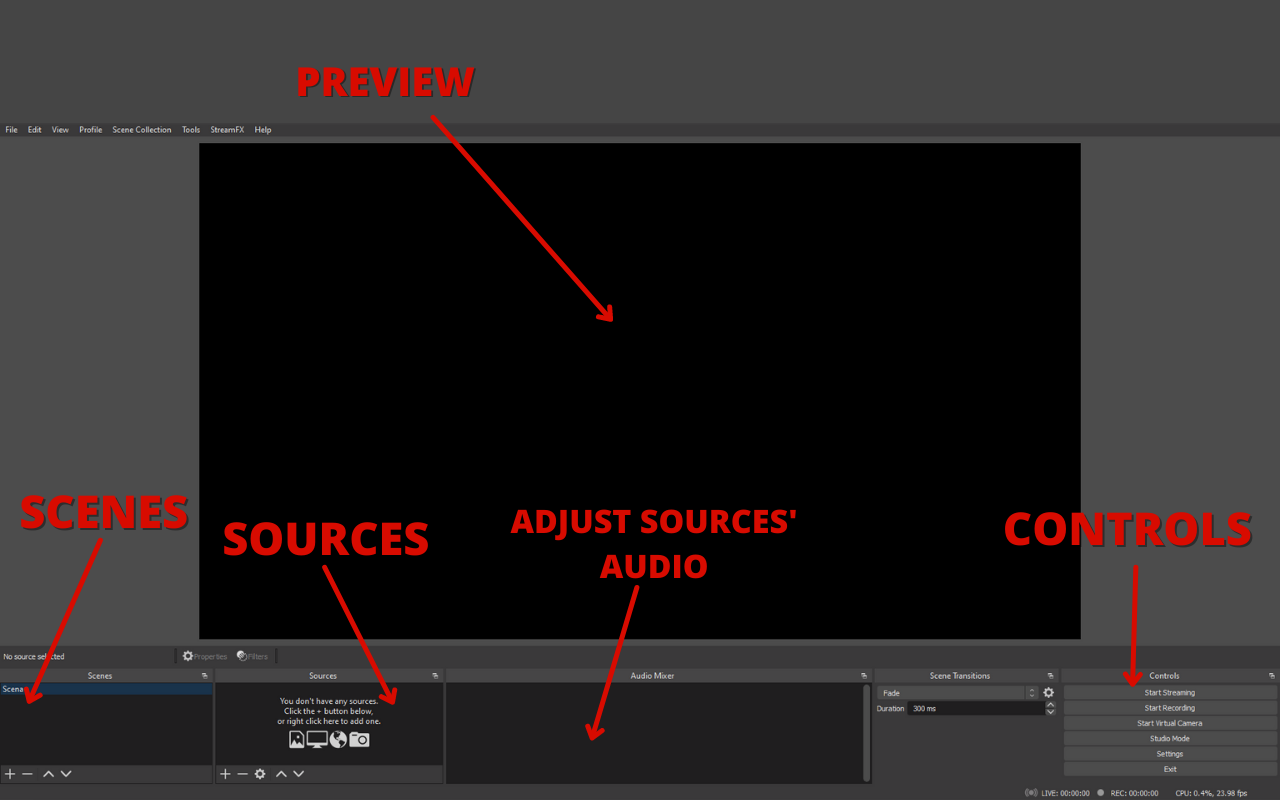 Scenes are basically what you will show while broadcasting. You can have as many scenes as you'd like and go back and forth between them.
A scene could include just you, playing, and singing. In this case, you would likely have two sources: a video capture source and an audio input source.
In other words, sources are what make a scene.
OBS supports various kinds of sources. Let's see which ones.
Audio Input Capture and Audio Output Capture
These sources capture an incoming or outcoming audio signal and transmit it to the viewer while broadcasting.
You can have different sources of this kind, and choose a specific device for each one of them. 
For example, you could have an audio interface plugged into your computer. The sound you want to transmit comes from that device. All you have to do, in this case, is to create a new Audio Input Capture (by clicking on the "plus" sign at the bottom of the sources section) and select your audio interface as the source device.
If you have another audio interface plugged in, and you want to broadcast the sound coming from that too, you can create a second Audio Input Capture and select this other interface as the source device. Repeat as many times as needed!
Now let's see another scenario. 
You are a music producer and you want to live stream your process. How can you make sure that the viewers will get the sound you hear from your monitors? The answer is the Audio Output Capture. 
This source captures the outcoming audio signal, so both you and your viewers can actually listen to it.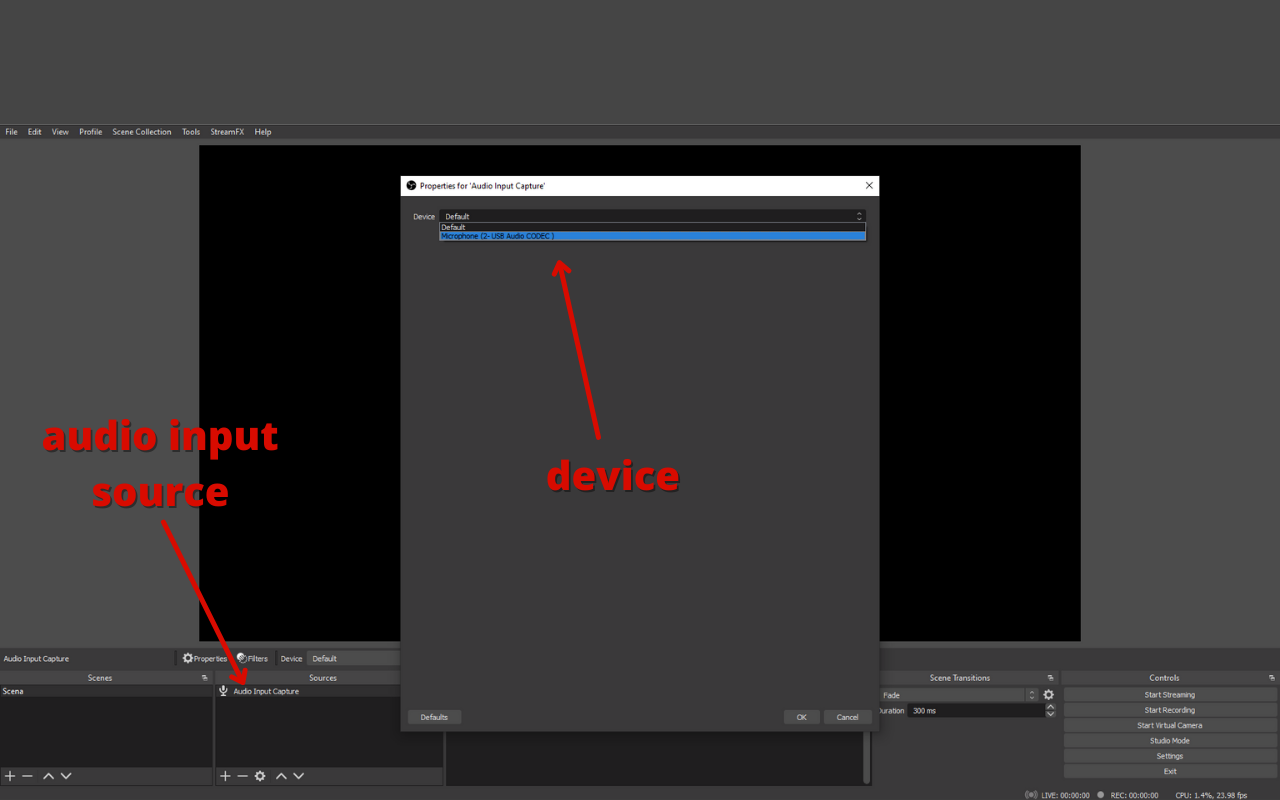 Video Capture Device
This source captures the video signal coming from a certain device you can choose as you did with the Audio Input Capture. 
If you have your webcam or camera plugged into your computer, you will be able to pick it as the chosen device.
Now your viewers will see what the camera films. 
Once again, you can have multiple cameras. All you have to do is plug the cameras in, create different video capture device sources, and select the cameras as the devices.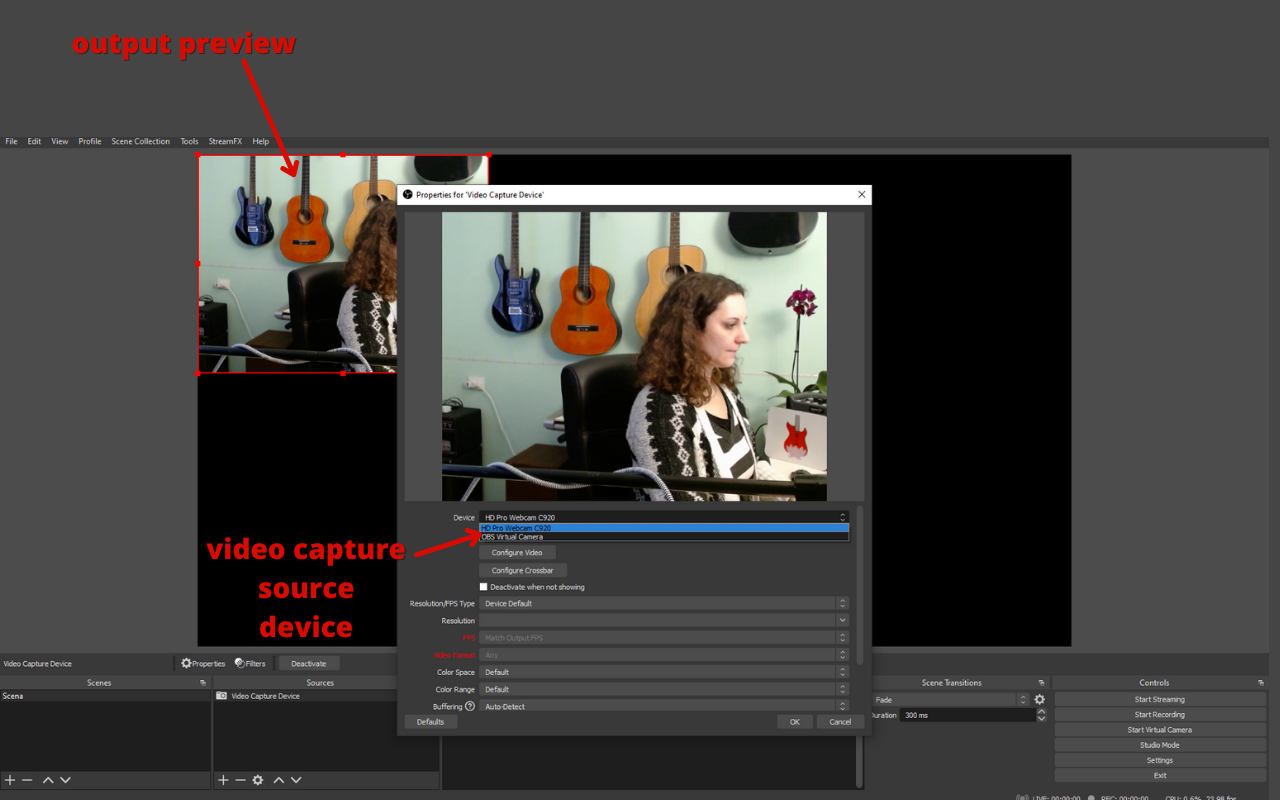 Browser
OBS also supports browser sources. With this kind of source, you can show an element coming from a browser. If this element is dynamic, for example, it "reacts" to certain chat commands or events happening on stream, OBS will show the animation or transformation.
A clear example of this is a goal bar. External services like StreamElements and StreamLabs can register your viewers' support, such as donations. If you have a goal bar linked to the donation process, each time a viewer donates on stream, your goal bar will fill up, until it (hopefully!) reaches the end.
I have a monthly tip goal bar on my stream. It is created through StreamElements, which is also the platform I use to collect donations while I'm live. Each time a donation happens, the red bar fills up.
To set up a browser source, simply copy the source URL and paste it into OBS.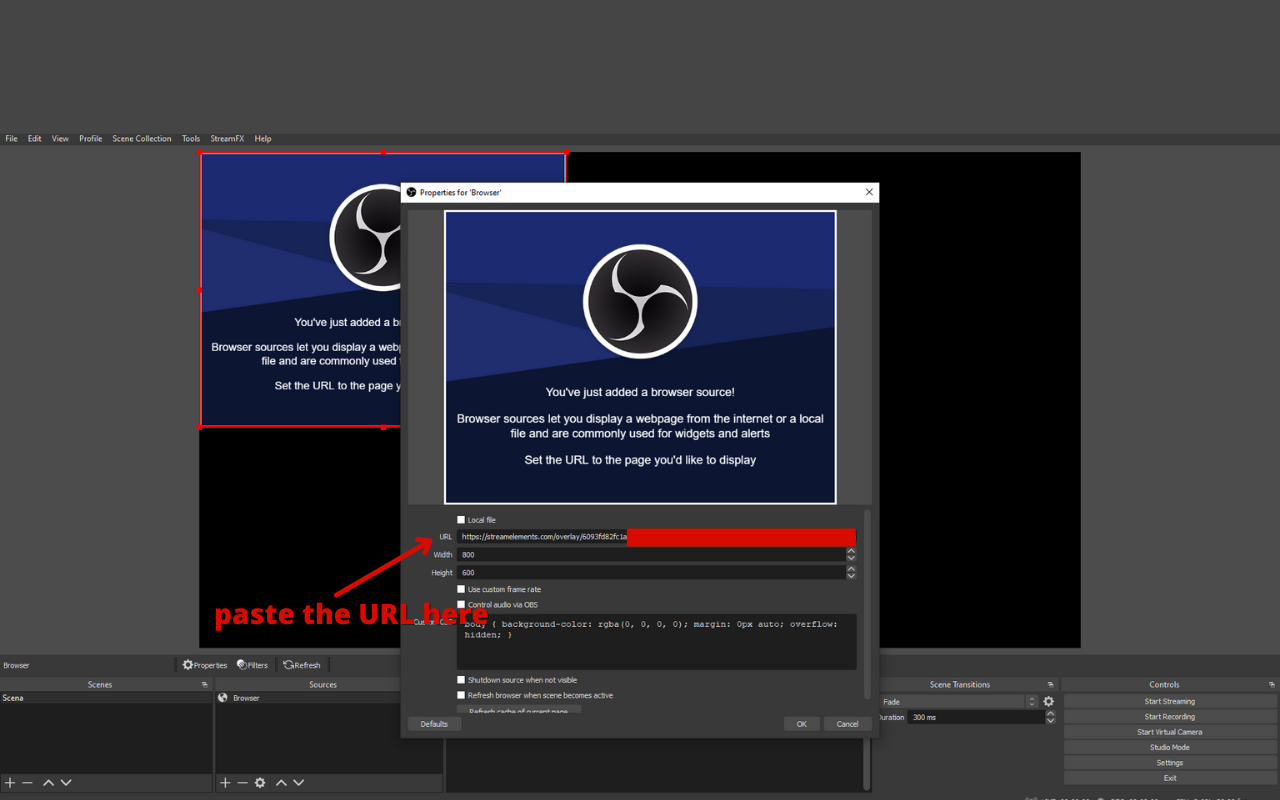 Color, image, and media sources
You can display blocks of colors, images, audio tracks, and videos by using the color, the image, or the media source.
With a color source, you can pick the color of your choice and assign it a specific size. The shape will be rectangular or square. You can change also change the shape by applying a mask filter (but this is a more advanced skill).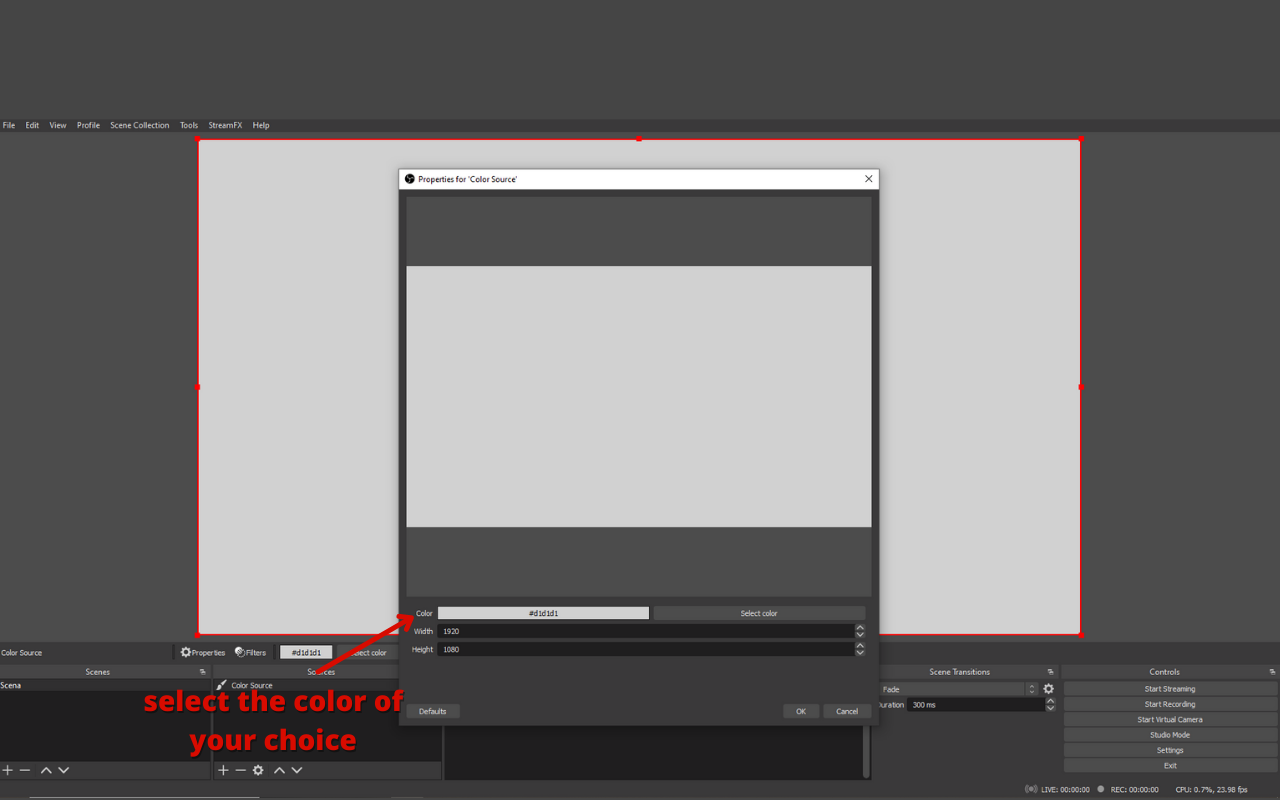 With an image and a media source, you can select a local image or media file and display it while broadcasting.
If you are displaying a video or an audio track, you can adjust its volume through the audio mixer.
---
These sources are usually the ones you need to tackle when you start streaming. Of course, there are way more, but their use requires more advanced skills (or a more experienced broadcaster!).
Before moving on and showing you how to actually go live, I will quickly guide you through the audio mixer, the scene transitions, and the controls.
The audio mixer allows you to control the volume of all the different sources you add to your scene. It is very straightforward as all you have to do is move the white knob until you reach the desired volume.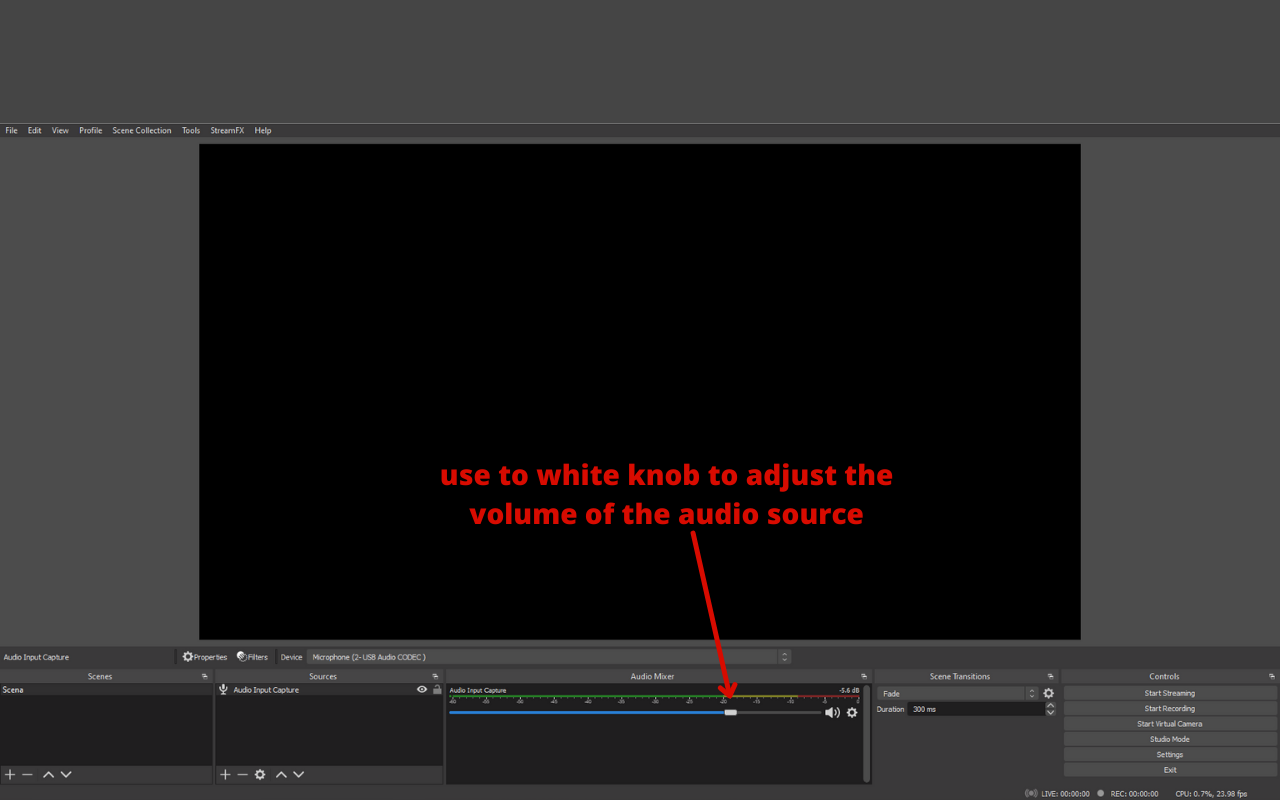 By clicking on the gear icon on the right, you can open more advanced settings and add filters.
While filters require a whole other article, I want to highlight one important advanced settings you are likely to adjust.
If you are using separate audio and video sources, such as an audio interface and a camera, you might notice that the audio and the video are not in sync by default. You will need to tweak the sync offset setting, under "Advance Audio Properties". Play with quantities until you reach the desired result.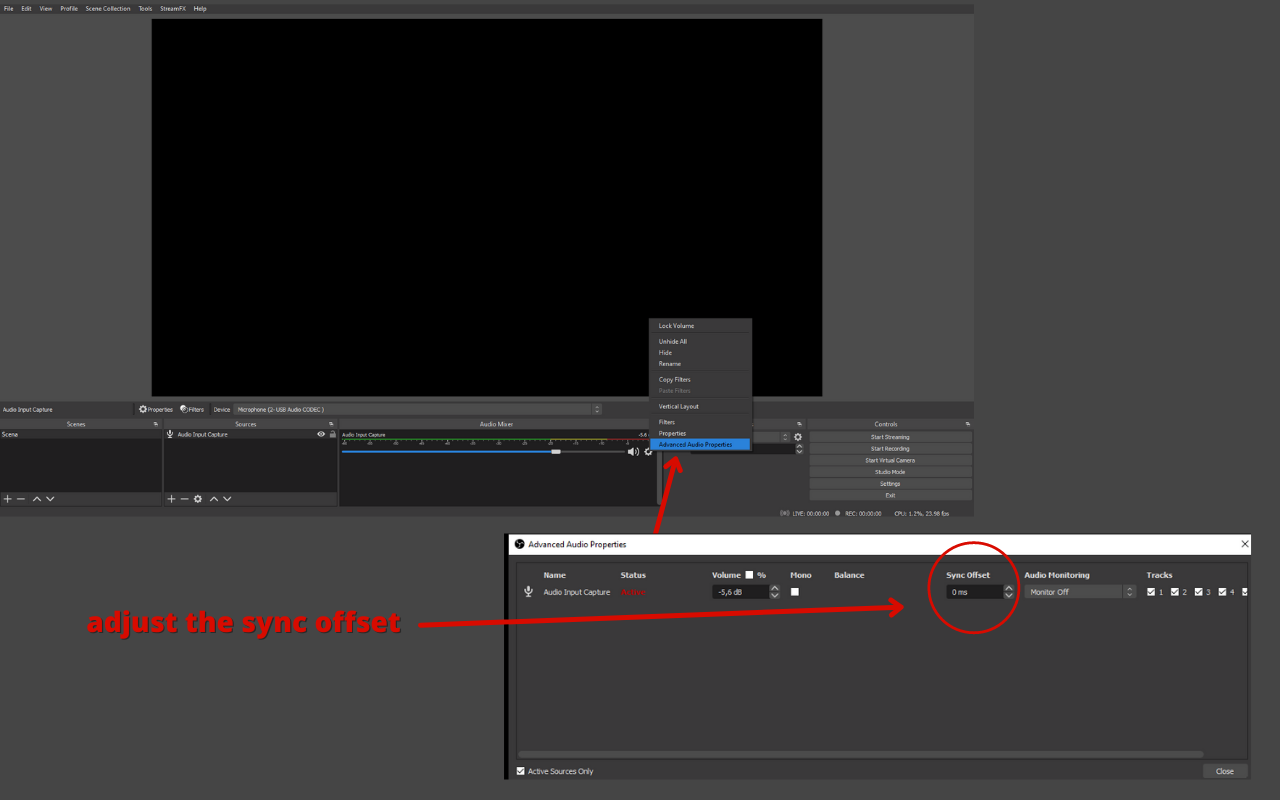 The scene transitions section allows you to choose a type of scene transition. By default, OBS will set the transition to Fade, for a duration of 300 ms. You can change these settings to make your live stream more fun and creative.
Last but not least, controls are what you need to actually start broadcasting.
"Start Streaming" will make you go live.
"Start Recording" will record your output. This is particularly useful to do a soundcheck before the actual live stream, adjust sync offsets, and test all the different features you added to your stream.
"Settings" are what we need to focus on to find out how to actually go live, so we will cover that in a second.
"Exit" is quite self-explanatory. You can click here to close the application.
Going Live
By clicking on "Settings" you will see a lot. Don't get overwhelmed! All you need right now is to head to "Stream". From here, you can select a "Service", which is the platform you are going to stream from.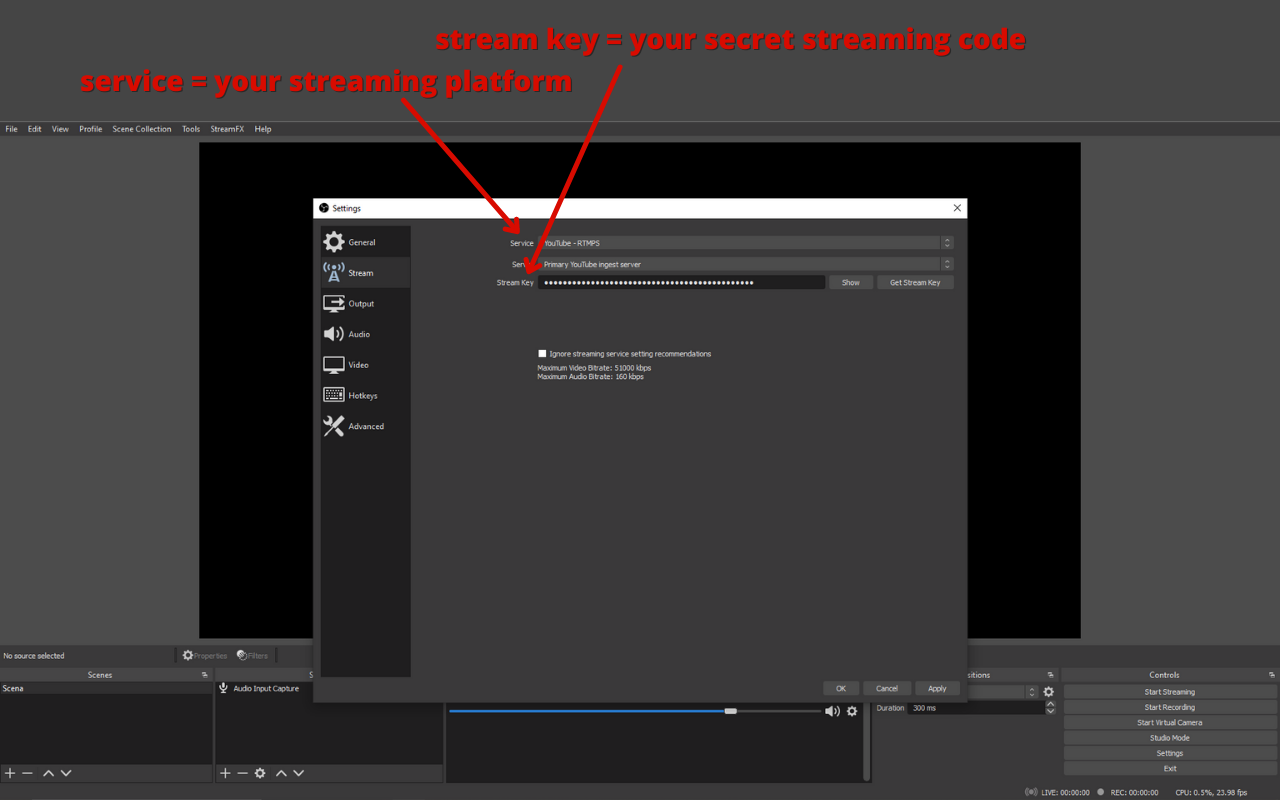 Let's say you want to stream from YouTube. Go to your YouTube account and open a live video. Select "Stream" and check the "Stream key" on the center-left.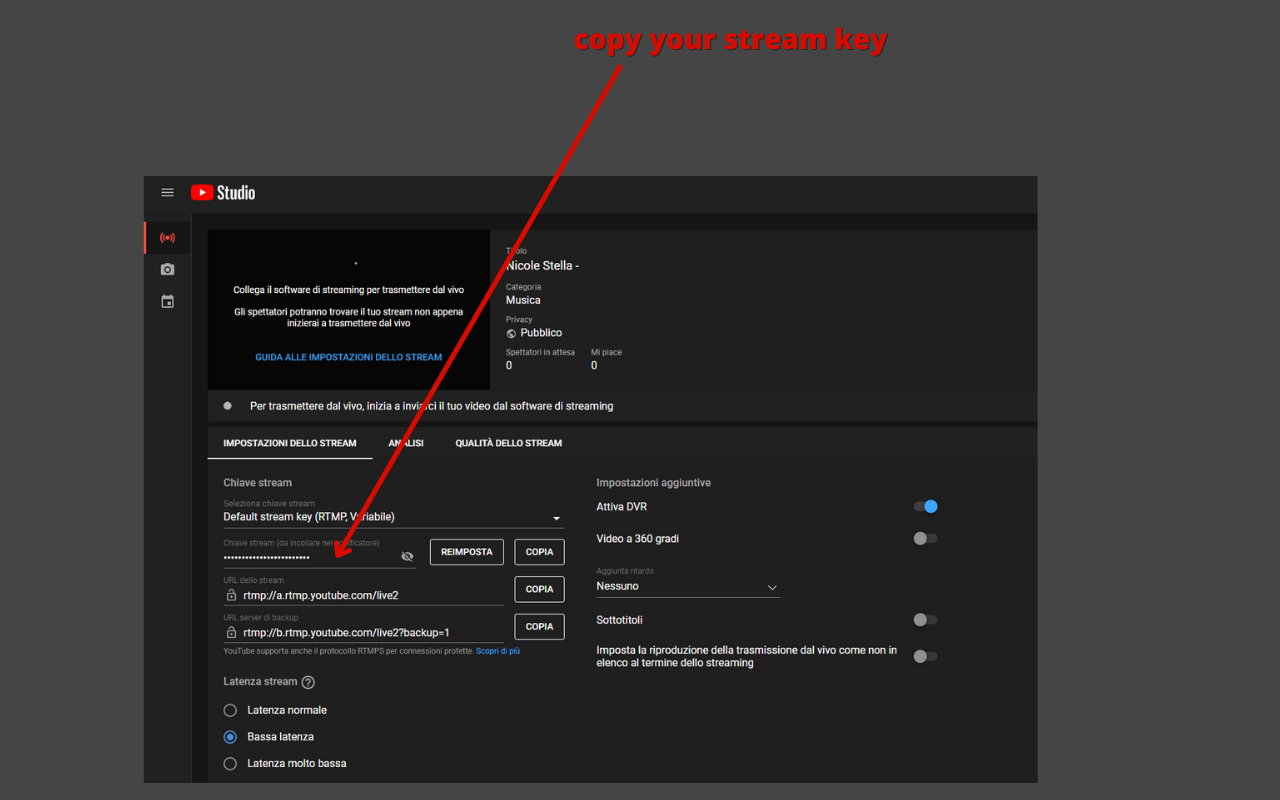 Copy that stream key and paste it into OBS. 
Now, when you click on "Start Streaming" in OBS, you will be ready to go live. If you stream from YouTube, before you actually start broadcasting, click on the "Go Live" button in YouTube Studio too.
If you stream from Twitch, you can easily connect your account to OBS, so you don't have to grab a stream key each time you start a new streaming show.
---
There are way more tools and possibilities with OBS, but this is all you need to go live for the first time. 
Stay tuned for some more articles on more advanced OBS features!
Meanwhile, happy streaming!