So, you wrote your next hit and now you are ready to record it and share it with the world. 
What can you do? 
If you want to work on your song independently and produce it yourself, you could hire a recording studio for the day and then ask a sound engineer to have the track mixed and mastered. 
This is a great method, but quite expensive. 
The alternative is to build your own recording studio at home and learn how to use it effectively. 
This way, you will need to make an initial investment that will, however, allow you to record as many songs as you'd like without much hassle. 
In this article, I am going to guide you through some very basics to build your home recording studio and start experimenting with it straight away. Let's get started!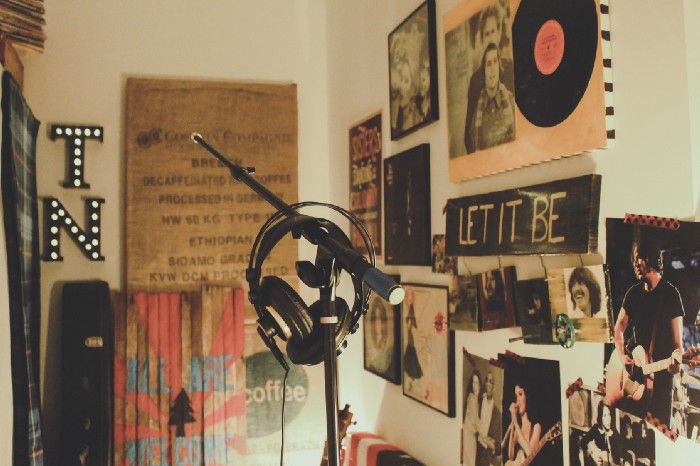 How does your room sound?
Unfortunately, there is no expensive gear, nor any mixing trick, that will make your track sound good if your room has bad acoustics. 
If you use a microphone to record vocals or acoustic instruments, you must make sure you are not capturing unwanted noises coming from the outside. Secondly, you will also need to reduce reflection, a phenomenon that takes place each time a sound wave hits a surface (like a bare wall), and that adds odd frequencies to your recording. 
Let's start with one simple rule: don't use egg cartons! They are a fire hazard and they are pretty useless for both soundproofing and avoiding reflection issues. But fear not: there are some great and cheap alternatives you can consider to have a better-sounding room. 
For soundproofing, curtains and weather strips are great. They are cheap, yet very effective. For the reflection issue, I opted for a microphone isolation shield, that comes attached to a foam absorbing panel. It prevents frequencies issues, reduces echo, and filters some unwanted noises too.
Computer and OS
You may wonder: is my old laptop going to be fine to record some music? Here are a few technical points to help you decide.  
You will need a dual-core processor, which is enough to deal with a reasonable amount of tracks per project (no more than 24). 
You may want to consider having quite a lot of RAM, possibly no less than 4 GB. As a rule of thumb, the more RAM you have, the more effects, plugins, and stuff you can add to your tracks. 
To make your system run more smoothly, get an external hard drive to save your audio data, which can take a lot of space and slow everything down. 
Don't use the same computer to record and to do other stuff. Devote one single machine to your home recording needs. (This simple rule will hopefully prevent it from crashing.) 
As for the operating system, I chose Linux. 
I know, a lot of fellow musicians laugh at me when I say I record using UbuntuStudio. And I feel sorry for them because they are missing out on some great open-source tools in a straightforward working space.
Digital Audio Workstation: your new best friend
Where do you exactly push the red recording button to get started? On your digital audio workstation, a modern version of the good old tape recorder. 
Your workstation will allow you to record multiple tracks, edit them, add effects and plugins, and much more. 
Now, the D.A.W. is a very important part of the equation, so you must find yourself comfortable using it. My suggestion is: start experimenting with the free tools available online and choose the one that suits you best. 
I personally use Ardour, which I find very straightforward and effective. Reaper is another great open-source solution, for Windows users too.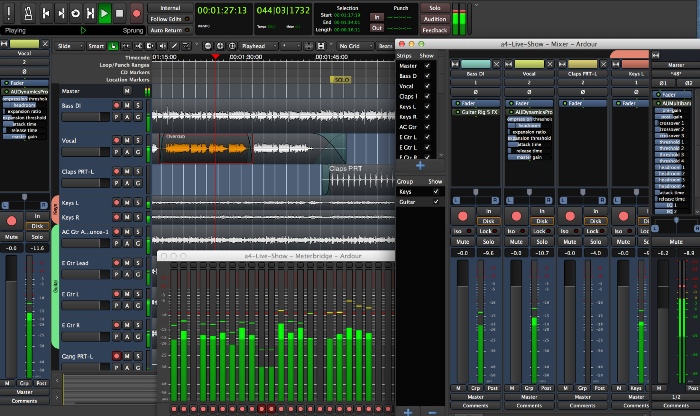 Ardour — Source: ardour.org
Microphones
To record your voice or your acoustic guitar, you will need a microphone. 
The question, at this point, usually is: condenser or dynamic? 
The answer is: it depends. 
Traditionally, condenser microphones have a better frequency response, capturing a more natural sound. However, there are now more and more dynamic mics that can do this job just fine. On top of that, dynamic microphones tend to capture fewer background noises, which comes in handy when you are recording from your home. 
To record, I personally use a Behringer C1, an extremely cheap yet quite effective condenser microphone, although I am planning to upgrade (possibly) to a Shure SM7B, which is dynamic. 
When you choose your microphone, consider two other factors. 
First of all, condenser mics usually need an additional amount of voltage to work, called phantom power. Before buying your microphone, make sure your mixer and/or audio interface have a phantom power switch or it won't work. 
Secondly, don't buy a USB microphone for recording music. While they are good enough to record podcasts, they are not ideal for capturing singing voices and acoustic instruments. XLR connections ensure more stability to the sound, so they should be preferred.
Mixer and audio interface
To start recording your amazing guitars and vocals, you will need an audio interface connected to your laptop or computer.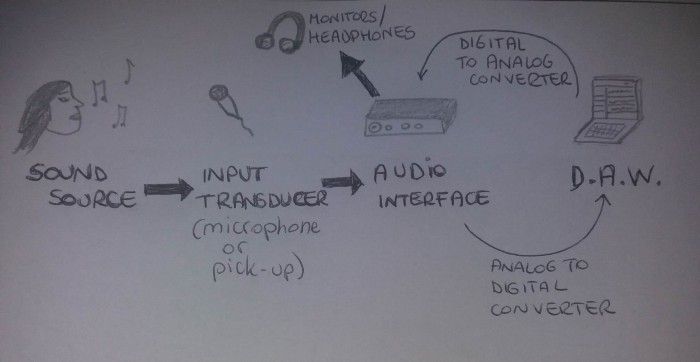 The signal chain (and my horrible drawing skills!)

To understand how the connections work here's a little scheme called the signal chain or signal flow. From its source, the sound gets into an input transducer, either a microphone or a pick-up, which converts it into voltage variations. At this point, it may get into your mixer or straight into your audio interface, which works as an analog-to-digital converter, through a process called sampling. Your sound waves are now just a sequence of zeroes and ones, captured by your digital audio workstation. At this stage, your audio interface works as a digital-to-analog converter and sends back in audio form what you've just recorded, either to your monitors or headphones. 
This process is very complicated, but you don't need to be an expert to understand a few key points. 
If you don't have one, you must buy an audio interface. This little box with inputs and knobs is essential for the analog-to-digital and the digital-to-analog conversions. I happily use a fairly cheap Behringer U-Phoria UMC22. 
Then use a mixer to adjust gain and EQ levels at the source. 
To be fair, this step is not compulsory. It could even complicate things a notch. My piece of advice is: if you already have a mixer and know how to use it, then go ahead and experiment with it. Otherwise, keep things easy and get familiar with your D.A.W. and audio interface before investing more money into your home recording gear. 
Check the audio sampling settings in your D.A.W. before getting started and make sure you work at 16 Bit at least (24 Bit preferred). 
Adjust the buffer size according to the complexity of the recording you are going to make. As a rule of thumb, larger buffer sizes allow you to have more effects, plugins, and stuff. They could, however, result in more latency. A little trick could be to keep a low buffer size during the recording process and then raise it during the post-production phase.
To recap
The signal flow scheme is also a representation of the essential gear you'll need to have to start recording your music at home. In a nutshell: 
your voice or instrument 
a microphone and/or an instrument with pick-ups 
an audio interface 
a computer with a digital audio workstation installed 
speakers and/or a set of headphones as monitors. 
Some extras you will need include: 
XLR and/or regular jack cables 
a mixer 
a pop filter (if you're a singer) 
an isolation shield for your microphone. 
There are so many more aspects to consider when it comes to home recording, but it would take quite a lot of time to go through them all.  
However, I'm pretty sure that the best way to improve your home recording skills is by keeping informed, checking out forums, watching video lessons, and reading books on the topic. 
Also, don't forget that, unlike the old tape, digital recording is limitless and free. You can experiment as much as you need without incurring extra costs. You'll just need a bit of time to learn, practice, and have some fun with your new home recording studio.