What happens when self-employed independent musicians get pregnant?
Finding out you are expecting a little one is surely exciting and beautiful, but being part of an atypical category of workers can add a lot of stress to this delicate phase of your life.
This is what I am experiencing right now: a lot of excitement and happiness, but a lot of doubts and anxieties too. 
Will I be able to keep earning enough to maintain my business alive and also contribute to my family expenses, savings, and investments? What is going to happen after his or her birth? Will I still be able to perform? 
Any self-employed or solopreneur mother-to-be, and a musician, in particular, has to face these anxieties very early in her pregnancy.
At the time of writing, I am currently in week 17, so only four months in. There are still five months left to the much-anticipated birth of my little one, but I somewhat feel the time is running so fast, my planning strategies cannot keep up!
My baby bump is not that visible yet. We haven't bought any baby items or clothing yet. We don't even have a baby room yet! However, the clock is ticking fast and day after day I realize how important it is to get my business ready before the baby arrives.
The only problem is: it can be tough to do that with all those dreadful first-trimester pregnancy symptoms (sickness, first of all...). However, I think I managed to learn five precious things in the last 17 weeks of my life. Five survival ideas that I want to share with any other independent musician who is also an expectant mother (maybe for the first time, like me). 
It is not easy to find articles and other material about this subject online. Of course, as solopreneur independent musicians, we are a minority, but we also need to feel supported and know that we are not alone in this journey. What we feel is totally normal, even if nobody else around us seems to understand. That's why I want to encourage you to share your experience in the comments down here if you are an indie musician and an expectant mother who needs the following five survival tips!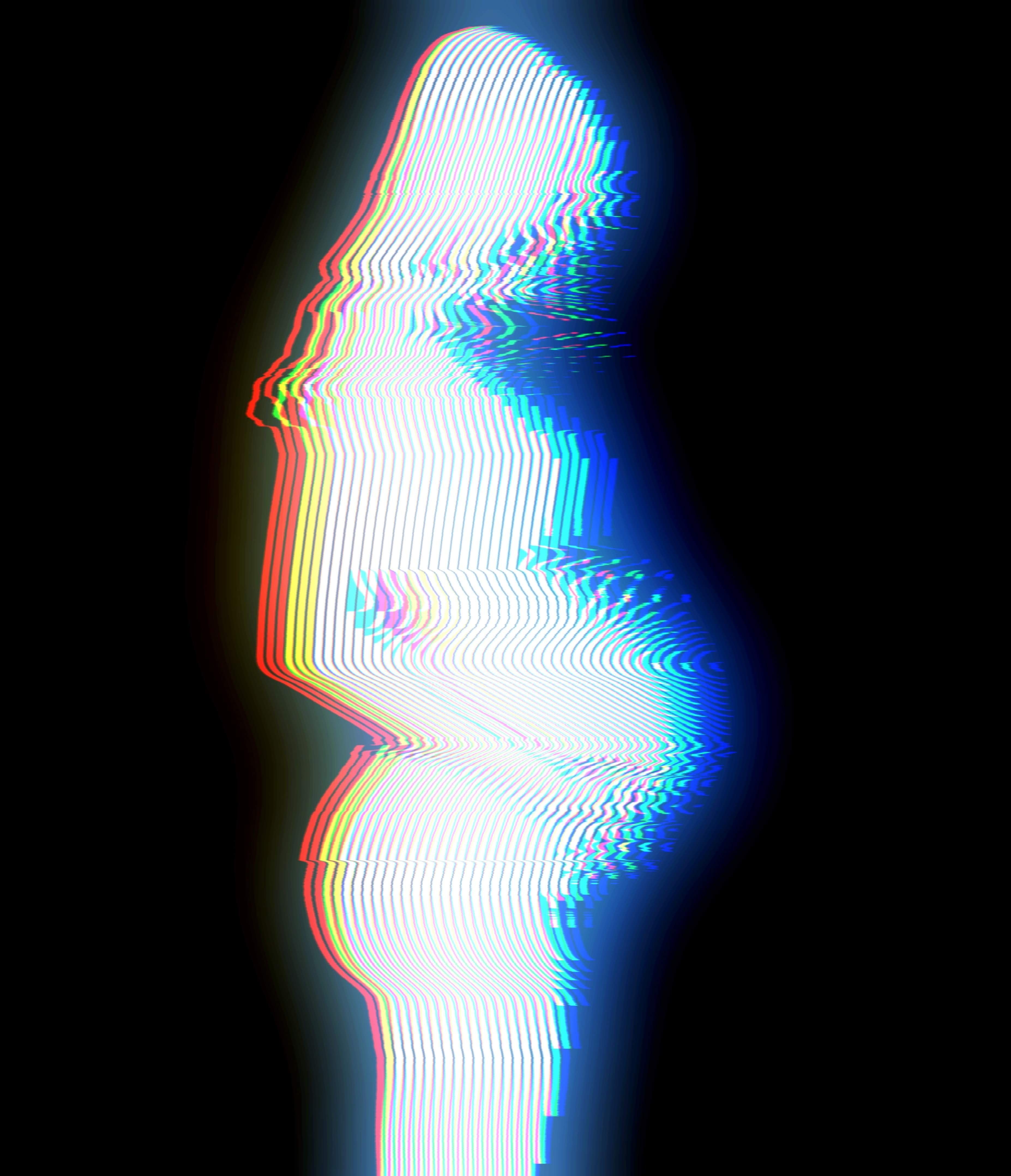 Photo by Glitch Lab App on Unsplash
Tip #1: Take it easy
Let's start from the basics.
I know it can be hard to slow down when our income depends on our ability to show up and be present all the time. However, if your doctors ask you to take it easy and get some rest, just do it. 
Even when your pregnancy is going well and you have your doctor's green light to keep working, you may feel tired, unmotivated, or unproductive on some days.
This pregnancy is teaching me to always take it easy. Being the workaholic I was before didn't make my results any bigger than they are now. Now that I am listening to my body and getting all the time I need to rest, I am actually getting all my tasks done without too much stress. Sure, it takes more time than before. What I could achieve in a week now takes two or three weeks, but who cares? 
It's important to prioritize your tasks and work on what really needs to get done, but you can leave everything else for later.
For example, if you have set deadlines, maybe because you are a freelancer who is working with a client, make sure to complete that job first. 
Right now, my live streaming shows on Twitch are my priority. They are also my main source of income, so I do all I can to show up at the scheduled time. If this means putting aside a recording, some tasks connected to my content creation schedule, or any other activity on my to-do list, may it be. 
Now that I entered the second trimester, I feel much better, so I can surely make up for the time lost in the last few weeks.
Tip #2: Don't put all your eggs in one basket
One of the tasks on my to-do list is to put the songwriting course I created on sale. It is ready to be sold, but lately, I haven't had the energy to plan its launch.
Why bother with it now, that I already have quite a lot on my plate? Well, because I know that I probably won't be able to stream for a while around the baby's birth date. 
It is important for me and my business to open up a second source of income. A passive one, too. 
Passive income is great for expectant and new mothers. By selling something on autopilot you can enjoy all the rest you need and take care of your baby without having to be too present at work. 
My goal for the end of my pregnancy is to open up different sources of income for my business and make most of them passive. This way, I will be able to take some time off Twitch without losing too much money.
If you are an expectant mother who is also a musician, think about ways you can build a side passive income source. Maybe you can create an online course (as I did), write an e-book, or strengthen your music sales and royalties.
Tip #3: Optimize anything you can
To spend less time at work, so that you can rest and/or take care of your newborn, optimize anything you can.
Here are some strategies you could try.
First of all, don't forget to prioritize the important tasks. Secondly, try task batching (more about it here). Last but not least, surround yourself with the right digital and physical tools needed.
For example, to shoot my songwriting course videos, I had the lesson scripts ready, but I didn't know how to talk to the camera while reading them. It was taking me forever to film all the videos I needed to put the class together, especially because I was in my full first-trimester "sickness nightmare". The solution was a simple tool called teleprompter, a transparent screen that reflects the text you need to read while looking at the camera. It is what anchormen and anchorwomen use to read the news on TV. The result? Instead of weeks, it took me days to shoot all the videos and then proceed to the editing. Even if I felt sick between the filming sessions, the process was very smooth.
You can also use digital tools that help you achieve more in less time, for example, social media schedulers.
Tip #4: Learn something new
In my experience, the tiredness and the sickness felt during the first trimester often resulted in a loss of motivation and interest in my projects. After some quick research on various forums, I found out I was not alone.
When you are pregnant, you could feel less motivated to focus on your work. If you are feeling this, it is totally okay! But how can you beat this ugly feeling?
I chose to learn a new skill, to keep my mind flexible and make it excited about the change.
My personal choice was coding because I have always had an interest in websites and computers. As I inherited my grandpa's old accordion, I also tried to learn how to play it, but it is way too heavy for a pregnant woman to use it safely! 
You can choose to learn something new in music, such as a new instrument or some new songs. You can also learn something completely different but that interests you, as I did with coding. You can even learn something as a hobby, without caring too much about the results! I tried knitting and painting too, for example.
The point is: get out of your routine and get yourself excited about something new. This may give you enough energy and motivation to get back to your projects with some renewed interest. 
Tip #5: Indulge in your favorite things
If learning a new skill is not enough to boost your motivation, try something less challenging.
Being pregnant is hard. It is physically and mentally challenging so there is nothing wrong if you feel drained and unable to do anything productive on some days. 
Instead of just lying in your bed and scrolling your phone, however, try something else. What are your favorite things? 
Do you enjoy reading a good book, watching a good TV show, going for a walk, or cooking? Engage in activities that recharge you and make you feel better.
For example, I love walking, which is also a safe form of exercise during pregnancy (but always ask your doctor before doing this!). I also love TV shows and I must confess I spent most of my weekends in front of Netflix in the first months of my pregnancy. 
In this crazy phase of my life, I sometimes get the motivation to get up and work by watching some episodes of what was my favorite TV show as a teenager, Charmed. Watching season 5, when Piper gets pregnant and has to deal with motherhood, witchcraft, and a business to run, made me feel somewhat empowered, on top of triggering some nice teenage memories.
I hope my personal example shows you that nothing is too weird when it comes to motivation boosters! You just need to experiment a bit and find your own. 
---
Whatever you do, always listen to your body and your mind. Try not to get stressed. Find a nice balance between work and rest, even if this means working way less than you did before.
If possible, show your partner, a family member, or even a friend that you need their presence, love, and help. And enjoy this crazy ride!